James Franco and Anne Hathaway Oscar Hosting Review
Anne Hathaway and James Franco as Oscar Hosts: Nailed It or Missed the Mark?
Oscar night is all wrapped up and the winners have gone home with their statues, but the performances I want to review now are that of the hosts. James Franco and Anne Hathaway brought their youthful energy to the Academy Awards stage, and with an arsenal of friendly banter and movie jokes, they seemed eager to please (if a little nervous) but they were definitely fun to watch. You guys thought the pairing was a bit random when it was first announced, and after a series of cute promos to warm us all up, they had the chance to prove themselves on Hollywood's biggest night.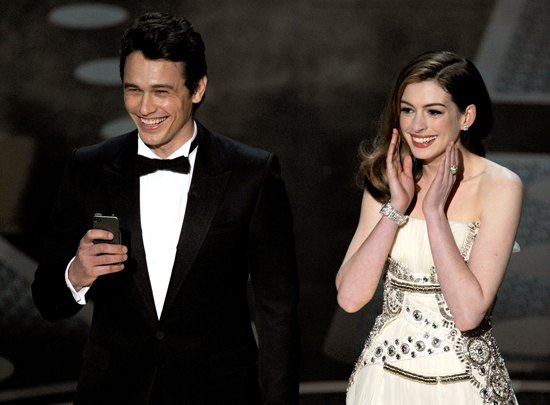 I was definitely entertained by the couple (especially Hathaway's song routine and the killer opening montage), but Franco was a little stiff. He had some great one liners ("Congratulations nerds" comes to mind), but overall it seemed like Anne felt more comfortable in the spotlight. What say you — did you think that Franco and Hathaway got it right?