James Franco College Course Offered at Columbia
Buzz In: What Actor-Centric College Course Would You Want to Take?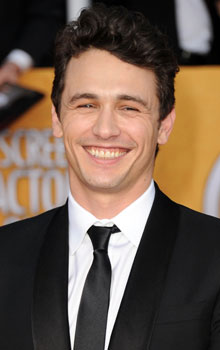 Just when you thought James Franco couldn't push the limits of his career any further, he gets his very own college course. That's right, a handful of students at Columbia College Hollywood will be lucky enough to enroll in a class dedicated to making a documentary about the life and career of James Franco, complete with guidance from Franco himself via Skype and in person. Called "Master Class: Editing James Franco . . . With James Franco," the 12 students selected will put together the documentary using footage that Franco provides, along with tapes of each class session.
I know that Franco is a cutting-edge innovator and all, but he's not necessarily at the top of my list of actors I'd like to study. I think I'd go for someone whose career has been longer and a little more varied (like Clint Eastwood or Tom Hanks), or perhaps a celebrity who's had to balance a family in the public eye with work (like Ben Affleck). What about you — in a dream world, if you had to study an actor for a college course, what actor or actress would you choose?