James Franco Quotes From The Mindy Project
James Franco's Funniest Lines on The Mindy Project
James Franco wrapped up his guest run on The Mindy Project's season premiere this week, and we're pretty sad to see him go. Dr. Paul Leotard has been a hilarious addition to the cast, especially after this week's laugh-out-loud episode. He talks back to Mindy, gets drunk, commits a huge blunder, and eventually gets himself ousted from the practice, but it was good (and funny) while it lasted. Let's not focus on the fact that it's over; let's just laugh all over again at his best lines from the show. Check them out, and let us know if you also enjoyed Franco's guest spot on The Mindy Project!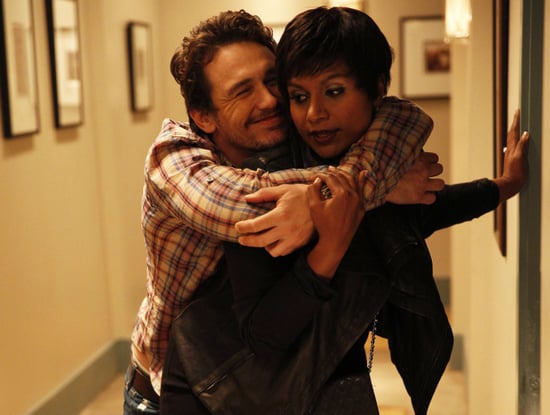 On his sperm: "They've got attitude. They're like kids playing in an open fire hydrant in the '70s!"
His sex advice: "Touch your partner's earlobe. Silky, is it not? Longing for stimulation. It is the clitoris for the head."
On his career path in gynecology: "From that moment on I realized my life's purpose. I was meant to guide babies down the original runway: the human birth canal."
On Mindy's fiancé, Casey: "I think you dodged a bullet. I didn't want to say anything before, but that guy has big-time gay face."
Telling Mindy off: "I really want to help you . . . Shoot! I am busy all day not giving a damn. It looks like I'm just booked all week not caring about this."
Proving how cute he is: "I wuv hugs."
Guilting Mindy into helping him: "You are an accessory to sex."
On his biggest secret: "I didn't tell you I slept with Hillary Clinton, did I?"
His one last dig at his rival: "I'll miss you all, even Mindy. I think her haircut looks nice, despite what everyone else says."