James Wolk Interview About Bob Benson and Robin Williams
James Wolk on Robin Williams, Playing Bob Benson, and Those Short Shorts
James Wolk made a splash on the most recent season of Mad Men as the mysterious Bob Benson, so when we caught up with the actor, we had to talk about the enigmatic character. Wolk is at TCA to talk about his new show, The Crazy Ones, in which he plays yet another ad man, this time opposite Robin Williams in present day. Wolk spilled about working with Williams, his own thoughts about Bob Benson — and how Bob's tiny short shorts made him grow as a person.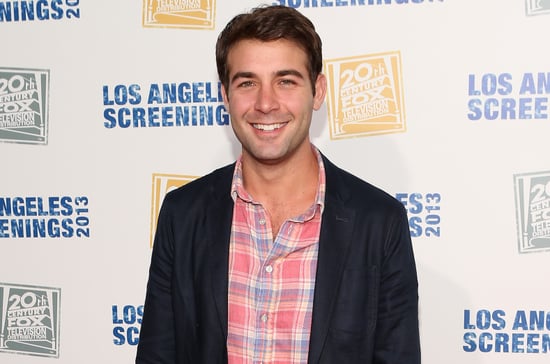 What is it like working with Robin Williams?
James Wolk: Working with Robin has been incredible. He's obviously iconic, and he's so generous as an actor. He's obviously an amazingly improvisational artist, but he takes you with him, so you never feel like, "I have to keep up." He's right there with you step by step.
You seem very comfortable in the pilot.
JW: I was very comfortable! I think I was having such a good time. We literally had to try not to laugh. The hardest thing — it wasn't remembering lines — it was like, "Don't laugh, don't break it. This is going well, we have a good scene, and if we laugh, we're going to have to cut."
Did you ever have that experience on Mad Men?
JW: Interestingly enough, as dark and dramatic as Mad Men is, those guys and that cast have the most amazing time laughing and playing on that show, so that was also a joy.
When did you find out that Bob was not what he seemed?
JW: We found out in installments, as the show went on. Halfway through the season, halfway through getting all the scripts is when I knew, hey, this guy isn't who he seems. And that's when Matt (Weiner, Mad Men creator) came down and we had a conversation, and he told me the rest of the story I needed to know.
The mystery didn't necessarily feel cleared up.
JW: Right, did you feel like there's more to tell?
Yes!
JW: You should call Matt Weiner!
What did you make of his relationship with Joan?
JW: All I can say to that is, Bob is very fond of Joan. He cares for her, and what exactly that means, and how exactly that manifests itself I think we'll maybe find out — or maybe it's left up to the audience to decide.
Those short shorts got a lot of attention.
JW: When I went to the dressing room for the fitting that day, there were nine pairs of shorts that got exponentially shorter, and they grabbed the ones on the far left side, which were the shortest. I wasn't happy about it, but ultimately, I think I really grew from that experience. I like wearing shorts now, and I'm more comfortable with my thighs.
If you had to pick an ad agency to work for — Mad Men's Sterling Cooper or The Crazy Ones' Roberts & Roberts — which one would you pick?
JW: Sterling Cooper Roberts & Roberts!