Jane Lynch Talks Hosting the 2011 Primetime Emmy Awards
4 Things to Know About This Year's Emmys
This year's Primetime Emmys take place on Sunday, Sept. 18, and we're not just excited to see the nominees all dressed up, we're looking forward to seeing Jane Lynch as the host. The actress stopped by the TCA with executive producer Mark Burnett and Academy president John Shaffner to chat Emmys, and they gave away a few details about the show.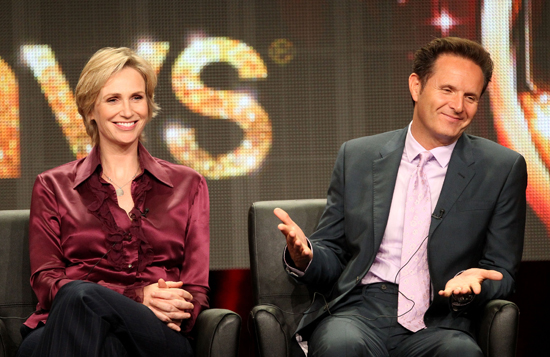 Lynch won't be hosting the Emmys in her Glee tracksuit. Lynch's breakout character is what she's best known for, but it sounds like we'll be getting Lynch as herself and not as Sue — though there might be a teeny bit of her. Lynch remarked that "a little bit of Sue Sylvester goes a long way" and producer Mark Burnett added that "any nod to Sue will be minor."
Lynch will probably have a big song and dance number. Lynch was involved in host Jimmy Fallon's opening dance number last year and had such fun that she's hoping she'll get her own song and dance, though producers are "still honing in on what they'll do."
It'll be entertaining. Burnett said that producers are aware that the pacing of the show makes a difference in keeping viewers entertained and promised lots of "shorter bits" and "spoof moments" of TV shows.
The In Memoriam sequence will be different this year. Burnett said it will still be a montage, but he's determined to make the award show staple uplifting. "In Memoriam doesn't need to be a bummer," he said. "It can be a celebration of what's left behind."