Jason Priestley Joining ABC Show Scoundrels
Which 90210 Guy Would You Like to Make a Big Comeback?
I obviously enjoy the new 90210, but I'll always have a soft spot for the original (OK, and Dylan McKay. Swoon). Part of me still jumps when I see the show's alums making headlines, and just this past weekend, I found myself feeling giddy when the gang reunited for Ian Ziering's wedding. But today gives us another blast from the past with word that Jason Priestley is joining ABC's Scoundrels. Two bits of 90210 news in one week? Sweet!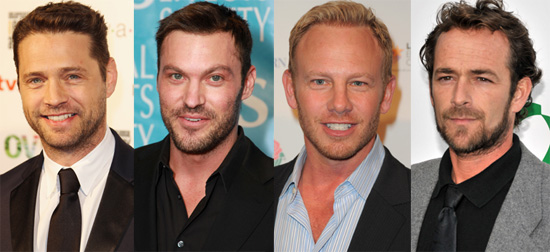 While the women of 90210 have enjoyed nice runs in the spotlight recently — Jennie Garth, Shannen Doherty, and Tori Spelling popped up on the revamped series, and don't forget Tori and Dean: Home Sweet Hollywood — I wouldn't mind more of the dudes on a regular basis. Tell me which former Beverly Hills heartthrob you'd like to see back on top for good.