Jason Segel, Alyson Hannigan How I Met Your Mother Interview
Jason Segel and Alyson Hannigan Talk About the Future of How I Met Your Mother
CBS focused on its current shows during the Winter TCA, bringing out comedy How I Met Your Mother, which is currently in its seventh season. Jason Segel and Alyson Hannigan were the only actors present today, but they had plenty to say, along with series creators Carter Bays and Craig Thomas. They talked about what's next for Marshall and Lily and their new little family, Robin's recent revelation, and the perennial question about when we'll meet the mother.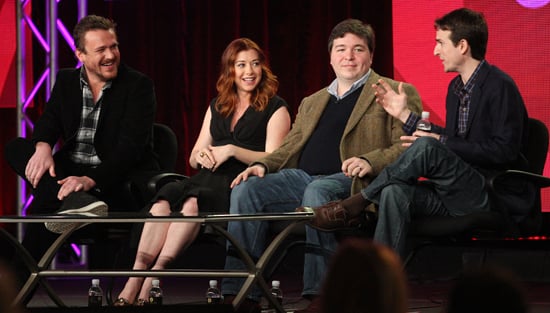 Though no one gave us anything concrete about the mother, Bays insisted, "we know what the end game of the series is." Segel piped up to say that he was "so relieved when I found out there was an actual plan," and then joked about it, implying that it might be the apocalypse before we find out: "We have to see if the Mayans are right! It might be Dec. 21, 2012."
Bays and Thomas answered the question of whether Marshall and Lily are really moving permanently to their suburban home by saying that we're all about to find out. Thomas said that we're "going to see them deal with that" in the next few episodes.
Fans weren't the only ones irritated with the show faking us out with Robin's kids. Hannigan recounted, "You should have seen us at the table read. I was like, season pass delete!" But she said she was angry because she cared so much.
On the show's evolution, Thomas mentioned that they couldn't have done storylines like Marshall losing his dad in season one or two. For his part on that arc, Segel said that "it was a real honor" to be given the chance to play out Marshall's grief, and echoed that "it's a real honor when people ask the best of you."