Jason Segel Interview About The Muppets
Jason Segel on Why Kermit Made Him Cry and Being an Onscreen Dad
Jason Segel's career is in full swing right now: not only is he heading into the seventh season of How I Met Your Mother, but his film career is also thriving, especially with his big Muppets movie arriving this November. We caught up with Segel at the TCA, where he talked about becoming an onscreen dad, crying over the Muppets, and what terrifies him.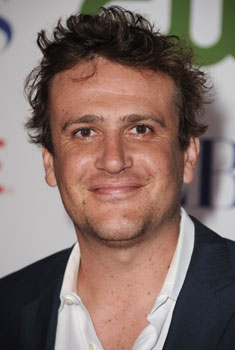 On The Muppets movie: I'd written the script for four years, and we did a table reading, and they brought the puppets for the first time. And we're all just sitting at a table, and all of a sudden, they brought out Kermit. And he said the first line that we had written, and I lost my sh*t a little bit, and started crying at the table read. I had to awkwardly ask them to stop filming. It was emotional, he's been my favorite since I was a little kid. It was a good day.
On whether a baby will change the How I Met Your Mother dynamic: It doesn't feel stunt-y to me, it feels more like a natural progression. My character's been married for five years now. That's kind of what happens — you have a kid, that's what happens next. . . . I think one of the things that makes the show feel true is that we're not trying to create an artifice of what people want to see, we're trying to do very naturally what our age is going through.
On whether he'd want to host an awards show like costar Neil Patrick Harris: I think Neil is incredibly talented and built for that. Neil is a natural-made host. The idea of hosting anything terrifies me. I'm not that talented.
On HIMYM's staying power: Prior to this show, my experience in television had been failure. I had Freaks and Geeks and Undeclared. And the thing about both those shows, is that I thought they were brilliant. So I removed the notion of success and longevity from quality. With that in mind, I didn't know what to expect. I went in trying to do the best job we could. The fact that now we're seven years in . . . it's longer than I've ever done anything. It's longer than any relationship I've had. It's longer than I went to any school. Sincerely, aside from my family, this is the longest I've known any group of people.
To see what Segel had to say about leaving the show and working with kids, just read more.
On whether or not he's ready to move on from TV: I will stay with this as long as it feels great and fresh and as lively as it does. I don't have a distinction between television or movies or theater. I like to do things that make me scared. When I feel like, "I know I can do this," I lose interest. When I'm a little scared — and last year, they gave me father dying — and I had to do scenes of losing your father, I was scared to do them. And that was a very exciting feeling. That made me want to do the show forever. And one of the great things is that I think they recognize that in me, that I wanted to feel challenged. It was a very humbling experience to know that they thought enough of me to write me material like that.
On being an onscreen dad: I feel so bad for whatever kids they hire. I'm so awkward. I'm like the Abominable Snowman from the Bugs Bunny cartoons. These poor, acting babies.