Jason Segel Talks Muppets and Getting Emotional on HIMYM at the TCA 2011-01-13 10:32:08
Jason Segel Talks Muppets and Getting Emotional on HIMYM
Jason Segel joined some of TV's other funny men, including Modern Family's Jesse Tyler Ferguson and Glee's Chris Colfer and Matthew Morrison, for a Winter TCA earlier this week. I caught up with the actor just before he was called back to the How I Met Your Mother set, to chat about his much-talked-about Muppet movie and what it was like to play a rare, dramatic scene on last week's heartfelt episode of his TV show. Here's what he had to say: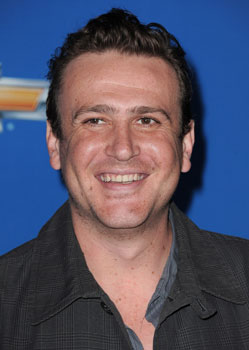 Can you talk at all about how things are going with the Muppets?
Jason Segel: Yeah, its going fantastic. We've got a month left, and I just couldn't be prouder, and I feel like I've tricked everybody. We've got several people who worked with Meryl Streep on this movie. More than one Oscar winner. It's really insane, and so to watch people I admire sing and dance and play with puppets, it really, truly, is a dream come true.
We've heard a lot about the celebrity cameos. What can you tell us about those?
JS: I'm sworn to secrecy, but Jack Black is in it, Emily Blunt is in it, and a whole list. I can't believe these people agreed to do the movie, but it's really amazing to me to see what they're doing.
Were you at all involved in getting them to sign on?
JS: Some of them, yeah, I would call them. We all called our friends, and there was a whole thing where, when people have kids, they wanted to be part of a movie that their kids would grow up on and watch, so it wasn't that hard to get people.
Knowing your love for the Muppets, are there lots of specific callbacks to things from the previous movies?
JS: Oh yeah. The original pantheon for me is The Muppet Movie, The Great Muppet Caper, and The Muppets Take Manhattan. So we do have some references to those three. But it definitely is a late '70s-, early '80s-style tome, set in the modern day.
To read what Segel had to say about How I Met Your Mother, just read more.
You said you found out about the scene [where Marshall learns his father has died] the day of. How do you think that affected your performance and your scene with Alyson [Hannigan], whose character gives yours the news?
JS: It was great, and I didn't want to know her lines. I didn't want to know what she was going to say to me when she got out of the cab. So until she got out of that cab . . . We literally did one take, which was so brave of our director. I had no idea what she was going to say to me. I knew the overall premise, but she came out, and she was already crying, and it was so heartbreaking. It made acting very easy. All I had to do was react in that scene. I didn't have to dig very deep.