Jason Sudeikis as MTV Movie Awards Host Reviews
Jason Sudeikis as MTV Movie Awards Host: Nailed It or Missed the Mark?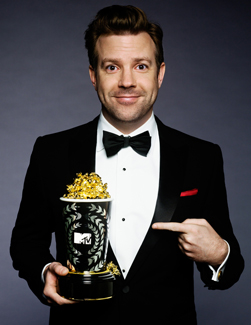 This year's MTV Movie Awards featured a mélange of hot young stars, victories for the Twilight cast, and a few laughs in between. Some of them came courtesy of Jason Sudeikis, the evening's host. The SNL star has been making a splash this year in a few comedies (like next month's Horrible Bosses), so I was excited to see how he did with the job.
Some of his bits had me chuckling (like The Hangover Part II-inspired send-up with Eva Mendes and Taylor Lautner), while others, like his made-up songs about the year's films, left me cold. I loved last year's host, Aziz Ansari, though, so perhaps my expectations were too high. So I want to hear from you: what did you think of Sudeikis as the movie awards host?
Photo courtesy of MTV