Jeff Bridges Speaks at the Tron Panel at Comic-Con San Diego
Tron: Legacy Is Out to Impress at Comic-Con With New Trailer!
Disney pulled out all of the stops for its Tron: Legacy panel. Stars Jeff Bridges, Olivia Wilde, Michael Sheen, and hot-actor-to-watch Garrett Hedlund stopped in, as director Joseph Kosinski gave us an idea of what to except when the film drops in December — along with eight full minutes of footage, a brand new trailer, and of course, some audience interaction.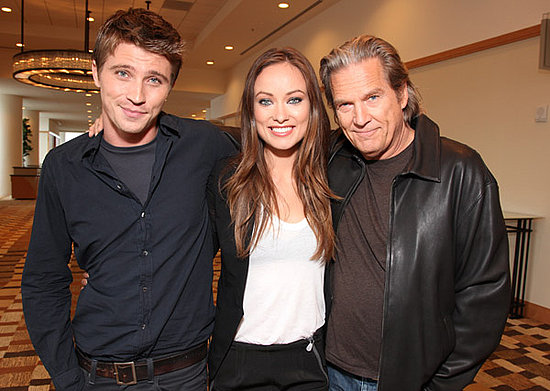 Patton Oswalt kicked off the panel by serving as moderator. He immediately set up a light tone for the rest of the hour, as he quipped that they'd be showing an in memoriam of all the fans who died waiting for the movie to get made. Also a fun touch: a mashup video of pop culture Tron references on everything from 30 Rock to The Simpsons.
Kosinski spent a few minutes speaking about the technology of the upcoming film, which includes fully illuminated suits for the costumes, and is shot with a Fusion camera system — that means it's created in 3D, not converted later. Sheen remarked that it's actually in 4D, because "Jeff Bridges brings an extra dimension of awesomeness."
Speaking of Bridges, everyone was abuzz because he's actually playing two characters in this film. He'll be reprising both of his roles from the original as Kevin Flynn and Flynn's avatar Clu; however, since Clu can't age, Bridges plays himself at 35 years old with the help of a little camera magic. As to playing the same character he portrayed over 27 years ago, Bridges called the experience "psychedelic" in his trademark dude drawl.
Wilde represented for the ladies, and we got a look at Quorra, a character she describes as a "powerful, kick-ass woman." "She's a warrior," said Wilde. "I've wanted to play a warrior a long time." The only downside, apparently, was that the role called for heels — on top of all the combat training: "I had do kicks and stuff in the suit!"
To hear more highlights from the panel and see the brand new trailer, just read more.
Hedlund, who plays the young lead (and Bridges's son in the film), revealed a little bit about his lightup costume, which consists of 3/4 inch of foam rubber. "It was the wardrobe of a lifetime," he said. "Where do you go from here? Jeans and a t-shirt will never be the same."
Next, we got a peek at eight minutes of the film! The special effects were obviously on display here, and the imaginative sci-fi world that the filmmakers have created may even have critics comparing it to Avatar. I know that sounds like a lot of hype, but trust me, it was pretty cool-looking, especially with 3D glasses. Perhaps Bridges summed it up best when he said, "The technology used in this Tron makes the old one look like a black and white TV show."
In addition to the film footage, they also debuted a brand new trailer. This one definitely gives you a better sense of the relationships in the film, as well as more fight scenes and special effects. Several critics are already describing it as epic, and I have to agree. You can watch it yourself below.
You'll hear the Comic-Con audience in the actual film once Tron: Legacy hits theaters! Kosinski told us we were in for a special surprise, as he announced that they wanted to record sound of the crowd to include in the movie. So we all turned to the giant TV screens for special instructions as to when to cheer and stomp (my guess is for the arena fight scenes). It was geeky, yes, but completely fun, and everybody in the audience had a great time with it.
Funniest fan moment: Two twin guys in matching outfits stood up to ask Wilde if she has "a new appreciation for guys who play video games." She nodded her head, and responded, "Oh absolutely, it's such a complex world, and now I'm so fascinated by it, as I learn the history of video games. I just started playing them — the last video game I played was Duck Hunt!"
Best response to a fan: When one audience member asked Bridges if he could talk about the father-son relationship between his character and Hedlund's, Bridges responded that he always hesitates to answer questions like that, because he doesn't want to give too much away. "I want to leave it mysterious if that's all right," he said — and the rest of the fans cheered.
How's this for a twist ending? After the panel concluded, Disney continued to roll out the surprises. First, director Guillermo Del Toro popped in to announce that he'll be directing a new film based on the Haunted Mansion. Then Oswalt announced special bonus footage, and we all looked on as Johnny Depp appeared on the screen as none other than Captain Jack Sparrow! He joked about needing a "bloody map and a Bloody Mary," and even though it wasn't quite as nice as if he'd been there in person, I was still thrilled by the cameo.