Jennifer Morrison on Once Upon a Time and Captain Hook
Once Upon a Time: Jennifer Morrison Hopes "Emma Has Some Romance in Her Life"
This season of Once Upon a Time has brought a lot of new things for Jennifer Morrison's character Emma now that the curse has been lifted, including relationships with the parents she didn't know were her parents (Snow White and Prince Charming). Season two has also brought plenty of trouble in the form of Captain Hook, played by new cast member Colin O'Donoghue. I recently visited the set of Once Upon a Time with a few other reporters, and we chatted with Morrison about Hook, their burgeoning romantic tension, and the latest developments for Emma. Read her interview and stay tuned for more from the cast and future episodes!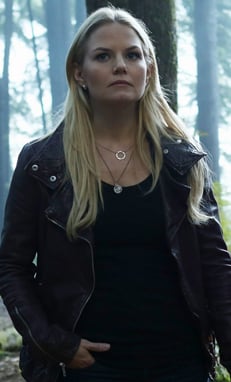 There's some sexual tension between Emma and Hook.
Jennifer Morrison: Yeah, it's been really fun working with Colin and having Emma interact with that character because they're definitely kindred spirits. They're both thieves, and they've come from troubled pasts, and they've both lost a true love, and so I think that there's a lot that they recognize in each other. So there's that camaraderie and also that combativeness with that right away.
Are you hoping they'll get together?
JM: I'm hoping that Emma has some romance in her life. It's been awhile.
Henry's father seemed great too.
JM: Oh yeah, he's great. Michael Raymond-James [who plays Emma's ex, Neal Cassady] is great too. We've been so lucky — we've had so many wonderful people join the show this year. That episode ["Tallahassee"] in particular was really fun, just to be able to show her backstory and show the parallel to what was going on with Hook and all that stuff. And as much as there are similarities in those relationships, those two guys couldn't be any more different, which is also great.
Read the rest of Morrison's interview after the jump.
How did you feel when you learned that Henry's father abandons Emma and makes it look like he turned her in to the police?
JM: I knew something terrible was coming. I didn't know what, but I knew something terrible was coming. I was actually more surprised that his decision was justified. I kept waiting for him to be a bad guy, and then I was sort of pleasantly surprised that his decision was actually made with good intentions, even though it ended up being very painful for Emma.
When Emma finds out how August was involved, how do you think she'll react?
JM: I wonder if and when she will ever find that out. I don't know how that's going to play out, and I would assume she'd be pretty pissed. I don't know. I don't know how else to react to that. Emma's plight seems to constantly be [that she's] the victim of the greater good. Her parents gave her up for the greater good, and her lover gives her up for the greater good, so she's really had to sacrifice her own feelings and her own emotions over and over again because she has this calling in her life to do things for other people. I think ultimately her journey is finding a way to embrace that and realize that that's actually a good thing. But along the way there's going to be a lot of heartbreak and pain to find a way to reconcile all of that.
How was it shooting so much in Fairy Tale Land and having to wear the same costume for so long, particularly Emma's signature red jacket?
JM: To be honest, I was thrilled because this was a comfortable jacket and I was fine with it. Poor Ginny [Goodwin] was stuck in that pink sweater in nine episodes. I was ready to burn the sweater for her, but I was like, "Listen, I'll take the burgundy leather jacket over the pink sweater any day." But there's something simple about it. Honestly, I don't really mind it, especially because it was a comfortable thing to be in and it was sort of functional. But we would joke about, like, "How long do you think it's been since we shaved or showered or properly brushed our teeth?"