Jeremy Sisto Talks About Suburgatory at TCA 2011
Jeremy Sisto Talks About Returning to Comedy For Suburgatory
The final stretch of the TCA took us to the suburbs for new ABC sitcom Suburgatory. Jeremy Sisto stars as a father who moves his teen daughter Tessa (Jane Levy) from the big city to the 'burbs after he finds condoms in her drawer. He then hopes that she'll get a more sheltered upbringing, but the new neighborhood turns out to be scarier in many ways. Creator Emily Kapnek and actors Sisto, Levy, Cheryl Hines and more talked at their panel about where the inspiration for the show came from, and why these crazy characters may not be so crazy after all.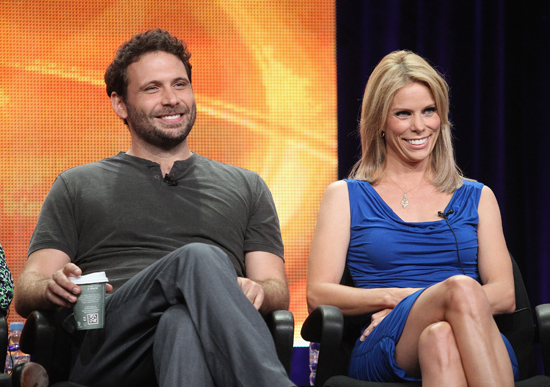 Sisto was asked about his move into comedy and he admitted to shying away from it after Clueless, but he's ready to embrace it again. Since his last series, Law & Order, was so dramatic, Sisto said the tone change made him "feel like I've had shackles removed a little." To his credit, costar Hines says that Sisto is "very funny in real life, [but] most people haven't seen that part of his personality."
Hines was naturally asked how this experience differs from working on Curb Your Enthusiasm. She said it was completely different, because Curb "is meant to feel almost like a documentary," where everything is low-key, but Kapnek "has created this entire world" with a heightened reality. Of her new show, Hines had lots of compliments to shower, saying the "dialogue is very clever and smart and clearly written . . . as opposed to Curb Your Enthusiasm." Burn?
To find out more about the Suburgatory panel, just
.
Kapnek insisted that Suburgatory is meant to be set in a fictional town, but the story is based on her own experience growing up, when her mother moved her from New York City to the suburb of Larchmont. The suburb-based characters are pretty outrageous, but Hines maintained that her character Dallas, a spray-tanned, high-strung suburban housewife, isn't outside reality. "There are people who are exactly like this woman, and they take great pride in it."
Rex Lee, who plays the maligned principal at Tessa's school, talked about finding a new home on Suburgatory in the wake of Entourage ending. He let on that he was a little stressed about the process, exclaiming that he felt like he "just finished work on Entourage yesterday! Where's the next job?" and adding, "I'm joking and I'm not joking." Of his two different characters, Lee said that "Lloyd has to deal with some sort of overt abuse, whereas Mr. Wolf is sort of suffering from neglect," because the students don't acknowledge he exists, until Tessa moves to town and becomes someone that listens to him.