Jersey Shore Season 3 Reasons to Watch
5 Reasons to Watch the New Season of Jersey Shore
It's time to head back to the boardwalk for Jersey Shore! The so-bad-it's-good reality show returns tonight, bringing us even more drunken antics and pearls of wisdom from the GTL gang. If you're still debating whether you'll commit to the brand-new season, consider these five reasons you should. Then tell me, do you plan on tuning in?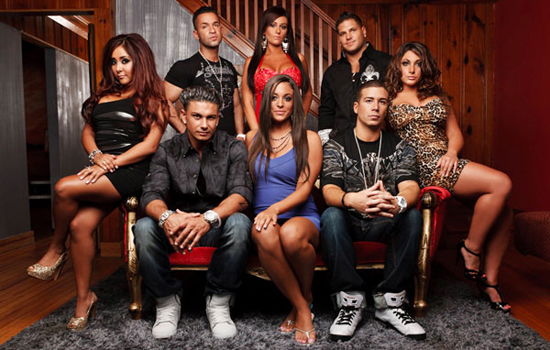 They're back in Seaside Heights. If you fell a little out of love with Jersey Shore during the show's Miami season, not to worry — the guidos and guidettes are back in their element. This season they return to their old stomping grounds, including the original house, where they'll no doubt christen a new smush room. Ah, it's good to be home.
No more Angelina. The Jersey Shore villain is off the show (though I wouldn't be surprised if she makes a cameo just to stir up trouble). Over the past two seasons, she's been nothing but trouble; first, she got kicked off the series after missing work, but most recently, she left after getting into a hair-pulling fight with Snooki. I'm sure there will still be plenty of chaos without her (for more on that, see No. 5), but her drama queen act was feeling tired.
A new roommate moves in. Angelina's out, and Deena Nicole Cortese is in. Snooki's pint-sized BFF joins the group this season, and girlfriend is definitely down to party. In one of the many show promos, Deena shows her goods to The Situation. It's clear that she's a wild one, but what I'm wondering is, with Deena and Snooki attached at the hip, will JWoww feel left out?

More reasons to watch after the jump.

More hookups! As Vinny says in the trailer for the new season, "Jersey girls are a little easier." He certainly seems to be taking advantage of it — did you see the shot of him making out with three girls at once?!
Drama, drama, drama. Ronnie and Sammi's brawling could use a rest (and it's definitely back this season), but they're not the only ones raising commotion. I'm particularly curious to catch Snooki's arrest for public drunkenness, and the saga surrounding JWoww's breakup with Tom. Should be interesting!
Photo courtesy of MTV