Jessica Chastain Interview at Oscars Luncheon
Jessica Chastain Says She's "Always Dreamed About Her Oscar Dress" at Luncheon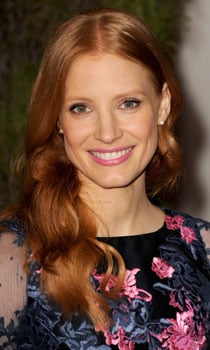 Oscar nominee Jessica Chastain visited today's Oscars luncheon to talk about the many plans she has for this year's Academy Awards. The actress, up for her work in Zero Dark Thirty, gushed about her excitement about her Oscar dress and what she may wear, and she also got serious to talk about what she's learned from director Kathryn Bigelow.
On how excited she is about dressing up on Oscar night: "Most little girls dream about their wedding dress, but I've always dreamed about my Oscar dress."
On what she's planning on wearing: "Something that is perhaps colorful. You never know; at the last minute, you might change your mind. I love fashion that celebrates a woman's body, maybe is a throwback to the glamour of Old Hollywood — that silhouette, but somehow making it modern."
On how she'll prep on Oscar day: "Just to have the morning off will be already very calm and zen for me. I had three shows this weekend — I'm still doing the Broadway play. I do feel like I don't know which world I'm in right now. Probably, the morning of the Oscars I'm going to be surrounded by my friends and my family, have a nice breakfast, play some calming music, and light candles; something really relaxing and celebratory."
On being grateful for her nomination: "For me, there's a strange thing that happens this time of year where it starts to feel like it's a race. Acting is very different than playing tennis. You don't get two people in a room and match it out. For me I feel like I've already won, so I never want to lose sight of what I feel right now. I know everyone says that, but you win already. That's going to be very important for me and my friends and family to focus on."
On any advice she has to young actors: "To do something every single day that reminds you you're an actor, even if no one's paying you and you don't have a job. When I was trying to figure out how to find my place in this industry, I continued like I was still in school."
On her advice to women in the military and beyond: "My advice to any woman in a field that has been, in the past, dominated by men, by numbers and seniority, would be to look at great examples of women like Kathryn Bigelow, and Maya, the woman I play in this film. Instead of complaining about the numbers not matching, which of course is an important issue, but I've found if you do really good work, it'll rise to the top. Kathryn Bigelow never talks about the glass ceiling in Hollywood for female directors. She shows up on set, [is an] expert at her work, and at the end of the day, that's what you know her for. You don't think, 'She's a brilliant filmmaker, and she's a woman! Can you believe it?' I just think she's a great filmmaker. That's the same thing I think about Maya. And what I would say to the women in the military would be: 'Thank you.'"