Jessica Sanchez is Saved on American Idol
American Idol: Did the Judges Make the Right Decision?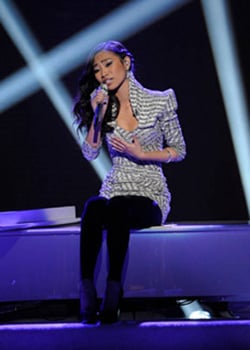 Psych! America voted Jessica Sanchez off this week on American Idol, but the judges swooped in seconds into her song and used their one save card for the songstress. "This is crazy!" said Jennifer Lopez, practically shoving Jessica aside during her last-chance performance to give America a lecture on voting for their favorite singers.
It was a shocking twist of events on a show that started as business as usual, with performances by ex-Idol contestants James Durbin and Jennifer Hudson featuring Ne-Yo. As the end of the show drew near, we learned in the bottom three with Jessica was another one of Jennifer's favorites, Joshua Ledet, and Elise Testone, who gave a commanding performance last night. It came down to Jessica, and thanks to the judges, she's not going home just yet. Did they do the right thing in saving her, or should they have saved their trump card for later in the game?