Jessica Simpson's The Price of Beauty Premieres Tonight, March 15, on VH1
Are You Excited For Jessica Simpson's New Reality Show?
When it comes to the guiltiest of guilty pleasures from the last decade, I've admitted that Newlyweds: Nick and Jessica is one of my faves. Nick and Jess were a cute couple, but the main reason I tuned in was to watch the crazy zingers that came out of Ms. Simpson's mouth (lest we forget the infamous "Chicken of the Sea" reference). Now, the likeable, bubbly blonde is returning to TV with a reality show for VH1 titled The Price of Beauty.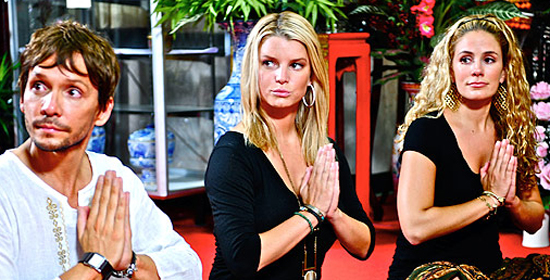 Pop already shared an early peek, and I have it on good authority that Jessica is once again pretty hilarious. On the show, she travels across the globe to explore what beauty means in different cultures — with BFFs CaCee Cob and Ken Paves in tow, of course. Simpson knows a thing or two about society's ideals, herself being the victim of tabloid scrutiny more than once before. I say more power to her for shedding light on how ridiculous our standards can be. And if she pokes some fun at herself (and okay, looks a little airhead-ish doing it), well, that's all in light fun.
I'll be watching the premiere tonight — how about you?