Jim Parsons Quotes From Emmy Awards Press Room
Jim Parsons Reveals Both He and His Mom Thought Steve Carell Would Win the Emmy
Jim Parsons made it a repeat at the Primetime Emmys this evening, taking home his second straight statue for lead actor in a comedy. He stepped back to the press room to talk about being surprised by the win, since even his mother told him that Steve Carell had it in the bag this year. The The Big Bang Theory actor also revealed what it was like getting the award presented to him by Charlie Sheen. Here are highlights: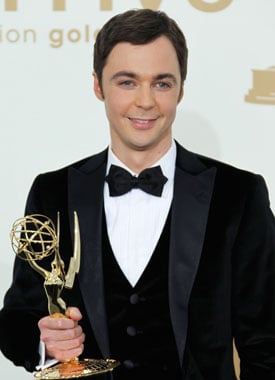 Did you know Charlie Sheen was going to be presenting? My first glimpse of Charlie was when they showed him right before the commercial when he was putting on his makeup. Then I started putting two and two together.
What are the statistical odds of you winning twice in a row? Apparently so bad that my mother didn't think I was going to. She told me it was going to be somebody else this year. Bless her heart. I'm very happy, but I'm a little flabbergasted, to be honest. Not that I expected anything ever, but I do manage to feel more shocked this year. Last year felt like more of a possibility for whatever reason, maybe because I was naive. But this year I felt pretty certain that I didn't have to worry about getting up there and I'm very grateful that I did.
Since you won last year, was the pressure off this time? Are you able to enjoy yourself more? Well, I did enjoy this year leading up to it this year more than last year, maybe because of last year having won. This year the whole show was nominated and Johnny was nominated — there's just so many more people involved in the process than there were last year. It felt like, even though everybody had to do all the things leading up to it, it felt like they were oddly taking away tasks from me. I didn't have to support a bunch of stuff — he'll do this, she'll be there. It was much more of a party atmosphere leading up to it this year.
What did Charlie Sheen say to you backstage? He just congratulated me and said "that's awesome." It was that sweet and that banal, I'm afraid.
Did you think it was Steve Carell's year to win? I did. That was what my mother had said along with other prognosticators. I just felt it would have been very richly deserved. He's just done such a wonderful job on that show for such a long time period. I really thought it would be anybody but me, and that Steve had a better chance.