Jim Parsons Talks About Winning Best Lead Actor in a Comedy at the 2010 Emmys 2010-08-29 18:33:51
Jim Parsons Talks Geeks in the Emmy Press Room!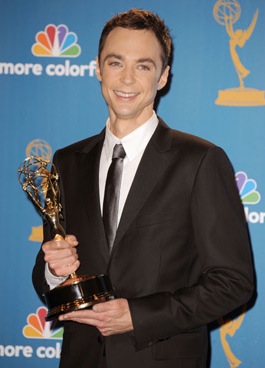 While the Emmys are underway and trophies are being handed out, I'm live in the press room to hear the first words of wisdom from all the winners. Here's what The Big Bang Theory's Jim Parsons had to say about his win for best lead actor in a comedy series:
How do you feel about this win?
Jim Parsons: This feels absolutely dream-like and I mean that in the most literal sense of the word. Is this really happening? I don't understand. And I keep waiting for someone to wake me up.
How does it feel to be nominated two years in row?
JP: It's been a huge honor both last year and this year to be nominated. It just feels like being a small part of history. I'm a big reader of almanacs and I like lists . . . boy do I sound OCD. So I was oddly thrilled to be part of a list, a group like this. The winning is kind of beyond. It's a cherry on top. I'm thrilled, I'm honored, but I'm stunned too.
How do you plan on celebrating?
JP: What am I doing to celebrate? I am the lamest old man, tired, but I think this gives me the energy to make it to 10:30, 11 tonight. I could rock out with some ice cream.
What was your first acting role?
JP: I played the cola cola bird, and I only had one line I had to sing over and over again. [sings] I don't know that I was good, I have a feeling that I wasn't overly riveting. But I obviously caught a bug.
What other TV nerds have influenced you over the years?
JP: There's a little nerd in a lot of classic sitcom characters. Isn't Ted Baxter a bit of a nerd? Isn't Michael J. Fox or Alex P. Keaton a bit of a nebbish little nerd in his own way? The spirit of that is what I felt like and still feel like is helping form what I do.
Stay tuned for more updates from the winners in the Emmy press room!