Jimmy Fallon The Chickeneers "Ho Hey"
Watch Jimmy Fallon, Nick Offerman, and The Chickeneers Cluck "Ho Hey"
So this is what happens when you get Jimmy Fallon, Nick Offerman, and Blake Shelton together right before Easter. This week the trio (plus show editor Chris Tartaro on the drums) landed on the Late Night With Jimmy Fallon stage clad in yellow feathers and bawking to the tune of The Lumineers' hit song, "Ho Hey." Their stage name? The Chickeneers, naturally. I know it sounds silly, and it is, but it's also a wonderful and oddly sweet pick-me-up. I wonder if they're available for birthday parties.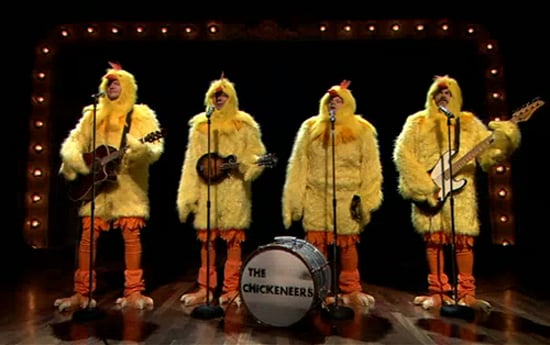 Check out the clip after the jump.