Jimmy Fallon and Justin Timberlake Hashtag Skit
JT Talks in Hashtags, Bieber Gets Spanked, and More of What Made Us LOL This Week
Ever used hashtags in normal conversation? Well, it sounds pretty ridiculous based on Jimmy Fallon's latest sketch with Justin Timberlake. Jimmy also cracked us up this week with an outrageous lip-sync-off alongside Joseph Gordon-Levitt, who rocked out to "Super Bass." Oh, and did you know Justin Bieber got spanked by Zach Galifianakis in the middle of an interview? See that and more with this week's funniest Internet finds:
Hashtags Gone Wild
Jimmy Fallon and Justin Timberlake's latest skit collaboration makes fun of the hashtag craze, with the pair sharing a hashtag-filled back and forth. #LOLOLOL, indeed.
The Epic Emmys Photobomb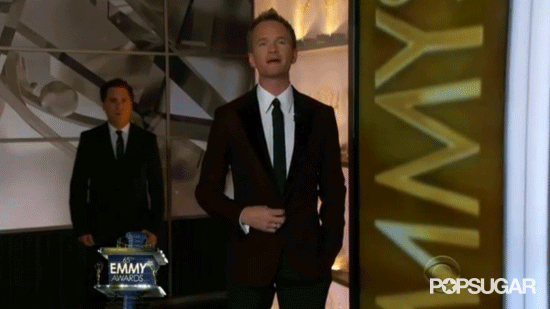 This year's Emmy Awards show was filled with some seriously funny, GIF-worthy moments, but none as hilarious as this man slinking away in the background while Neil Patrick Harris spoke to the camera.
Justin Bieber

Gets Spanked

This may just be the first interview to involve both a spanking and a sliming. When Justin Bieber sat down with Zach Galifianakis for the latest edition of Between Two Ferns With Zach Galifianakis, things quickly took a funny turn when Zach said, "It's really exciting to talk to you, especially right in the middle of your public meltdown."

Keep reading for more funny videos.
A Daddy-Daughter Duet
When his 4-year-old daughter couldn't fall asleep because she thought she was hearing fireworks outside, Benjamin Ames decided to distract her by starting a duet. She's hilariously cute — especially when she makes him stop for every imagined firework noise.
A Hedgehog Miley Parody
Thought you'd already seen all the clever parodies of Miley Cyrus's "Wrecking Ball" video? Think again. This hedgehog version may or may not take the cake.
Julia Louis-Dreyfus

Flips Out

As if there was ever any doubt that Julia Louis-Dreyfus is a talented actress, her latest performance on Jimmy Kimmel Live — a public temper tantrum — proves that she's the Emmy-winning real deal.
Dr. Seuss on the Senate Floor
Hoping to defund Obamacare, tea party Texas Senator Ted Cruz spoke for a whopping 21 hours straight on the Senate floor. And what exactly did he discuss? Well, he eventually killed time with a dramatic reading of Dr. Seuss's Green Eggs and Ham.
A Lip-Sync-Off For the Ages
Joseph Gordon-Levitt and Stephen Merchant brought Late Night With Jimmy Fallon's lip-sync-off sketch to a whole new level, tackling "Super Bass" and "Single Ladies" with impressive lip-sync skills and wild dance moves. Perfection.