Jimmy Fallon On Robert Is Bothered, Emmys and American Idol 2010-07-31 11:04:52
Exclusive: Jimmy Fallon Talks Robert Is Bothered and American Idol Rumors
Jimmy Fallon stopped by NBC's day of the TCA press tour on Friday to talk about hosting the Emmys and Late Night. We caught up with him at the party later that night, where we couldn't help but ask about working with Robert Pattinson on Robert Is Bothered. Jimmy had nothing but glowing words for the Twilight star, who caused the loudest fan screams of any guest he's had on the show. Jimmy also shared his thoughts on this week's American Idol shakeup. Here's more: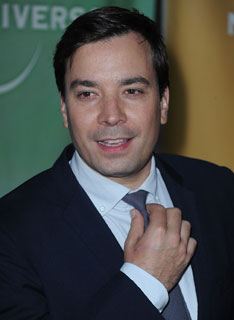 PopSugar: Can we expect to see Robert Is Bothered at the Emmys?
Jimmy Fallon: Of all the bits on our show that we can do, we gave [the Academy] 10 different versions of all sorts of things we could do, to which they said these are all great, but we have to give out awards. So we have to cut it down to three bits. And Robert Is Bothered was not in there. I pitched Robert Is Bothered for Teen Choice Awards.
PS: How was Robert Pattinson to work with on Robert Is Bothered?
JF: He was a great sport. He climbed up in the tree and did it with us. I've never heard louder screams in my life. The screams didn't compare to anyone, even when Justin Bieber has been on. He was describing his movie Remember Me and people would just not stop screaming. And I was just thinking this is so cool. What an experience. I really hope he's enjoying this ride. He's a great guy and he deserves it. He was really shy and really happy — exactly the same backstage as he is on the interview. He's a charming guy, but just really shy and I just hope he's enjoying the moment. It must be super exciting to be him.
PS: There was lots of American Idol news and rumors this week. Who are your dream judges for the show?
JF: I was thinking about this today. I can't crack the nut, I can't solve it. You can't top Simon. You need a bad guy who's right. You need an honest guy who people aren't going to like because he's too honest.
PS: Do you think they're going to be able to get it right, or should it just be the end of Idol?
JF: I don't know. I'm kind of leaning towards the second one. To be honest, I had such an amazing time watching Kelly Clarkson — that was amazing! Daughtry, I'll take that, that was great. Clay Aiken, Ruben Studdard . . . but I missed last year, and the year before that I kind of missed too. Lee Dewyze seems like a great guy and talented, Kris Allen — great guy and talented. Adam Lambert is great. I'm just kind of phasing out, but I have to add something else. This year I think what I'm most excited about is I think they're all living in a house, and they're going to film them living in a house. Now that's more my speed. I like the reality part the best.