Joe Manganiello Interview About Magic Mike XXL
Joe Manganiello Explains Why Matthew McConaughey and Alex Pettyfer Aren't in Magic Mike XXL
When we visited the set of Magic Mike XXL, Channing Tatum made several lofty promises for this Summer's sequel, but costar Joe Manganiello (returning as "Big Dick Richie") is almost seeking to outdo him. With more definitive answers for the kind of movie this is (definitely a comedy) and how racy it's going to be (it's going to be "out there," he pledged), Manganiello has us even more excited for the movie. And not just that, in our interview with him and several other reporters on the Savannah, GA, location, Manganiello spilled about fiancée Sofia Vergara, who was visiting him on set that day. Yes, he said the things you'd expect him to say, along with a little TMI that might make you blush. Ready for Manganiello's antics?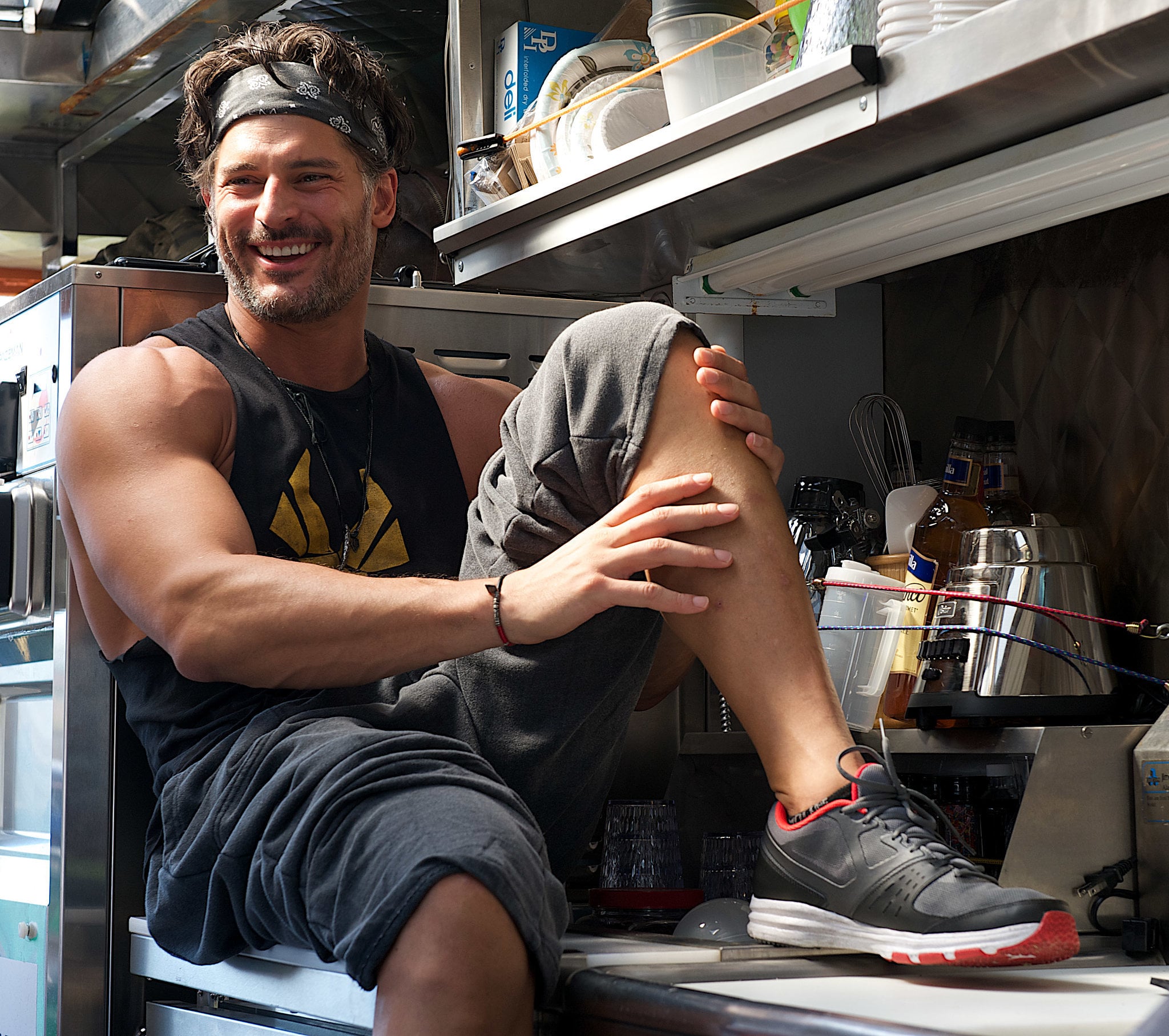 What are we going to learning about your character that we didn't learn in the last film?
Joe Manganiello: This movie is an ensemble, and when we were filming the first one, there was something magic that happened when the guys were together. Of course the script for the first movie was written, and we knew what we were going to film, but we all on set looked at each other and said we had to do it again. [The first movie] would have been about the guys. This is really the glue that held our first movie together, so this time around, the whole movie was just about the guys. All of us are in every scene of the entire movie.
I think it's going to catch a lot of people by surprise, because what I think a lot of people wanted the first movie to be, and were hoping the first movie was going to be — that's what the second movie is. So you're going to learn everything. It's kind of in the vein of those great '70s road trip movies, like Easy Rider or the section of Animal House where they all go out on the road. It's very much like that. You'll see us in all types of altered different states and unaltered dress states and undressed states.
Is there more humor this time around?
JM: This is a comedy. This is a comedy in the vein of Animal House, for sure. Very much so.
Matthew McConaughey and Alex Pettyfer don't come back. Is it addressed in the film why they don't return?
JM: Plot-wise, it wouldn't make sense for either one of them to be here. We picked up an incredible group of new characters as well. Michael Strahan was here last week, which was a blast. I think his career is going to be very different [from now on]. It's going to be kind of pre-Magic Mike and post-Magic Mike for him. Twitch from the Ellen show, Donald [Glover] — Childish Gambino, and Jada [Pinkett-Smith] are amazing additions to the cast.
Do you get nervous before you go on? Because there's 900 screaming women in there and you're actually stripping.
JM: Yeah, but I mean, this isn't my first rodeo. I think they are the ones that need to be nervous. It's pretty out there.
To prepare for a role in having an incredibly large member, you're stripping and you're supposed to be packing heat, so . . .
JM: Yeah, I was going to say: that's a good question for my girlfriend.
Did Elizabeth Banks participating in that MTV Movie Awards sketch help with her role in this?
JM: I think how she handled that, God bless her soul, definitely probably led her to the powers that be thinking that she could handle this, because if you watch that footage, it could have gone horrifically wrong.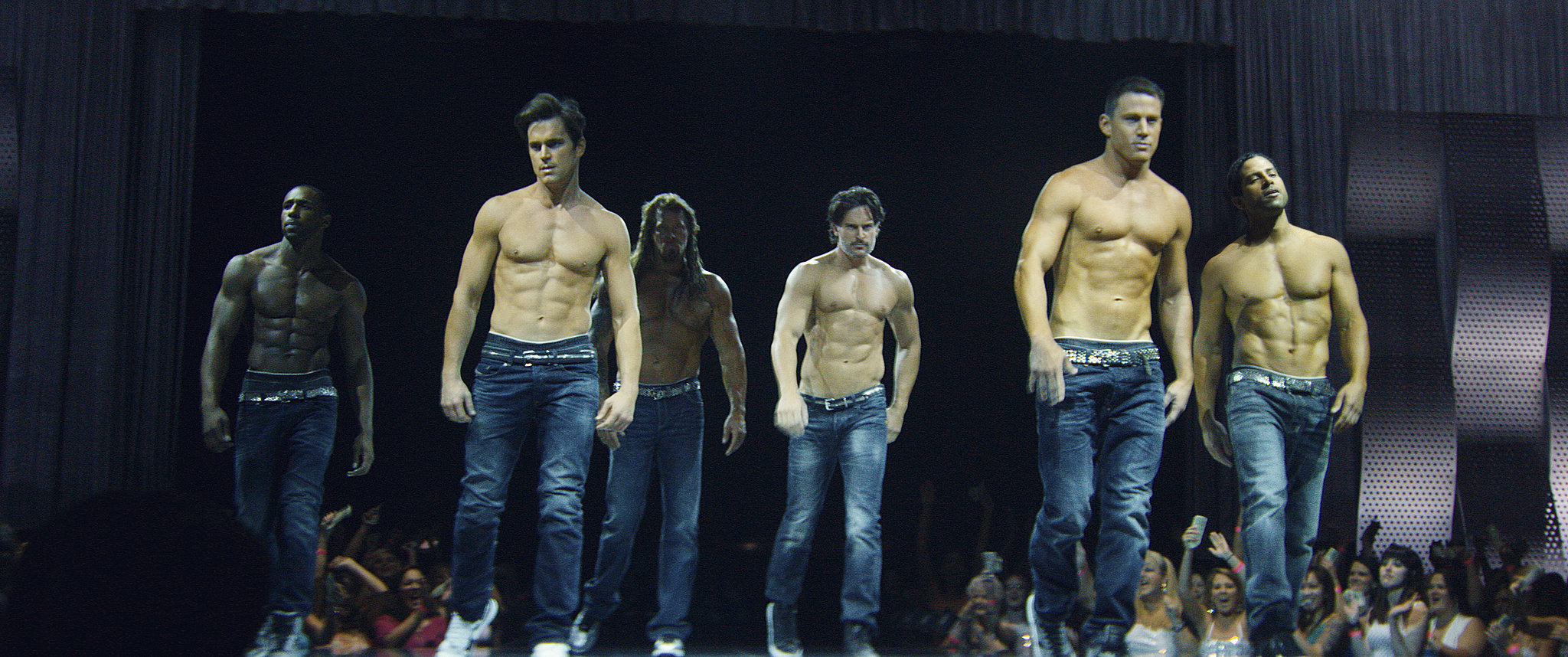 Can you talk about your big routine in the move?
JM: Donald Glover sings for me during my routine. Jada is a part of my routine. We got Trent Reznor to give us Nine Inch Nails' "Closer." That's my routine.
That's a great song.
JM: Oh yeah, Donald is going to sing a cover of a Bruno Mars song for me also. A little bit of everything, and I will tear away my tuxedo. . . . I'm actually so happy. I think the really big difference in this movie and the first movie is the music budget. We're not necessarily a tiny indie film anymore. We get whatever music we want. That was the first choice; I love Trent, and Nine Inch Nails is probably my favorite band ever, so I get to do the routine to that. And I also have another dance routine that comes earlier in the movie to a Backstreet Boys song. So yeah, we've got some pretty amazing things.
Which Backstreet Boys song?
JM: The greatest Backstreet Boys song of all time: "I Want It That Way."
Which Backstreet Boy would you be?
JM: Maybe A.J. He's kind of the bad boy. He's actually a friend of mine, so it's really funny that I'm doing their song for this movie.
Who do you believe would make the most money if you guys were actually strippers?
JM: The great thing about this ensemble is that everyone is so different. It is very much like a boy band in that way that everybody has their favorite. We've got a seven-foot professional wrestler, big sexy Kevin Nash, who is one of the most charming, intelligent, and hilarious people you'll ever meet in your life. So we've got that. Matt [Bomer] sings his own song — well, sings a DeAngelo song, but you know Matt can sing and dance and has that covered. You've got Chan, who is probably the best dancer on the planet, doing a routine with Twitch [in] which the two of them can dance it out for the best dancer on the planet. So you've got that covered in that way. Then you've got Adam [Rodriguez], who has this like great, fun, kind of New York flavor to him, and so you've got that covered. And then you've got my character — there's a whole other thing that gets covered with that. Kind of like this BDSM sort of something.
Are you doing Christian Grey for us?
JM: There's a little red room of . . . you'll see.
And Sofia is here to watch you today. How is she feeling about it?
JM: She's great. I mean, she's amazing. She's just — she's the best.
Did you ever do the routine for her beforehand, or is she seeing the routine for the first time now?
JM: Um, she's seen it.
Magic Mike XXL seemed to get off the ground pretty easily. Was there any difficulty getting it organized?
JM: Well, the fact is, they made the first one, and every studio passed on it. Nobody wanted it. So Chan and [Steven] Soderbergh stepped up and covered the budget. So because they did that, they had autonomy to make the content what they wanted. It could be a lot racier, a lot scarier, I think, than the traditional powers that be would allow. And because it was popular, the people wanted it and wanted more, you have a really unique experience this time around.
This movie is going to blow people's minds. There hasn't been a studio film this racy, this out there, this kind of progressive, probably since the '70s. And especially in today's climate, I think movies play it very safe, and this is going to be something that is out there.