Joel McHale Interview About Community With John Goodman
Community's Joel McHale Says Jeff's Relationship With Annie "Will Develop Further on the Romantic End of Things"
Community returns for its third season tonight on NBC, bringing along a few new characters — like John Goodman, who plays the vice dean. He joined Community star Joel McHale for an interview with a few reporters, where Goodman talked about his guest role and why he wanted to be part of the show. But what was even more exciting was McHale's juicy scoop about Jeff's relationship with Annie (it's so on) and what else is coming up for the study group.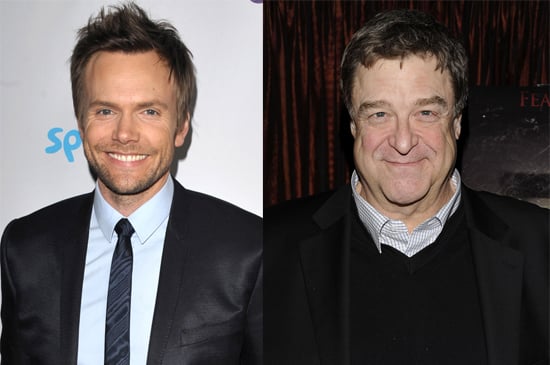 How will Jeff's relationship with Annie develop?
Joel McHale: Well, I can tell you that that relationship will develop further on the romantic end of things, much to the chagrin of half the audience — at least who comments on message boards, and it's divided right down the middle. They'll be like, "Oh, so sweet," [and the others are] like, "It's disgusting."
What other changes are coming for Jeff?
JM: I know that my father will become present in the series. Jeff has a lot of father issues, and so that will be dealt with. And according to Dan, my character's [going] to kind of be put through hell, so I'm really looking forward to taking the journey.
Do you have a personal opinion on who Jeff should be with, Annie or Britta?
JM: No, wow. Wow, in my personal opinion, geez. That's a good question. I had not thought about that. You know, when it comes to that I trust Dan implicitly and, with Jeff, he's a very uncommitted and guarded man. He's got a lot of issues going on, and you know he's going to be more gravitated to Annie this year. But, if it's my personal choice then I guess it would have to be — boy, I don't know, that's a good [question] — probably anybody from the WNBA.
Tell us about the musical number that we've seen in the preview.
JM: It is an over the top, very large musical number with crane shots and streamers and explosions, and the entire school is involved. I don't want to say the reason for it, but let's just say that I did pull a couple hamstrings and I was hoarse afterwards, but believe it's going to — it's the first thing you'll see in the premiere episode, and if that doesn't grab your attention then we're in big trouble.
Of the new guest stars (John, Michael K. Williams, and Martin Starr) who is shaking things up the most?
JM: Oh, boy. Well, John is terribly disruptive. He parked his car on the stage and said, "This is my parking space."
To find out what Goodman revealed about his character, and why he wanted to be part of Community, just keep reading.
Why did you want to be involved with Community?
John Goodman: It's the cast. I think they're a wonderful ensemble. The writing is out there. It's just not a typical situation comedy sitcom. It's risky and yeah, you know, it's a combination of great things and I'm just dying to get back into comedy again. That's what I like to do. I enjoy it. And I've been [playing] pretty heavy guys lately, so you know, it's nice to lighten up. Not that that's any easier — I mean, I had pages of dialogue yesterday that was really precise, but it's good to stretch like that.
What is your character's relationship with the dean like right now?
JG: He's got his privates in a vice, Dean Pelton. He's an unseen, unknown force on campus and Dean Pelton was feeling his oats and now he's having his oats fed to him.
Why did want to come back to comedy on TV?
JG: Because it's funny. I haven't done comedy in a long time, intentional comedy. There's a great sense of achievement because it's so damn hard. There's a lot of ingredients to doing it and it keeps your skills going. You have to learn how to juggle again and it's just a great thing. Plus, there's a great payoff when it works. And I like to laugh almost more than anything in the world. If you can make somebody else laugh that's a great thing.