Joel McHale Jokes That the Cast of New Moon Will Guest Star on Community
Buzz Interview: Five Minutes of Fun With Joel McHale
I had the pleasure of chatting with Mr. Joel McHale earlier this week at the NBC party during the Winter TCA. As expected, the funny man had plenty of quips to share about The Soup and Community, plus a few additional pearls of wisdom (?). Stay tuned for my interview with his costar Alison Brie later this week (which includes a lot more fun about Community), but for now I couldn't resist sharing a few of McHale's wacky and weird one-liners: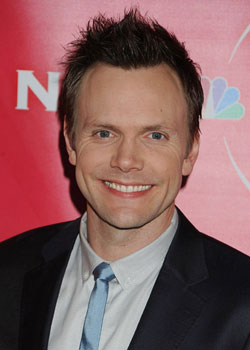 On The Soup's audience: "Young people watch it on Saturdays, old people watch it on Fridays."
On Community: "It is the time of my life. I look forward to going to work every day."
Does he actually watch all the shows featured on The Soup: "How in the hell could I watch that much television?"
Will Community get more guest stars besides Jack Black? "Yeah, sure, Ryan [Seacrest]'s coming on, Wilt Chamberlain, Michael Jordan, Obama's gonna come on, it's gonna be great. Bilbo Baggins — the real living one is coming on — the cast of New Moon . . . I know you ladies love the gawky vampires."
How much longer will he pull double duty? "I don't know. I have another year left in my contract. I don't know what the future holds as far as that's concerned. I love doing it, they're all my friends and I love them. I'm having a great time doing it and that's my plan at this point, is to keep doing that. So we'll see.
New Year's resolution? "To quit smoking. I don't smoke, but my resolution is to remain smokeless. My skin is like teriyaki beef jerky."