John Carter DVD
What to Rent: New DVDs This Week
Machine Gun Preacher is also available on DVD this week.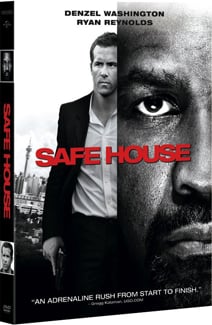 Ryan Reynolds stars as Matt Weston, a young CIA agent stationed in South Africa, in this gritty, well-written action film. Matt's been there for over a year waiting to be assigned a prisoner to "take care of" when Tobin Frost (Denzel Washington) shows up. Though the circumstances of his visit are originally murky, Matt soon learns Tobin is a rogue agent, and thus begins a thrilling game in which Matt must question everything he knows to be true. Extras include several making-of featurettes.
54%
Taylor Kitsch is John Carter, a Civil War soldier who gets transported to Mars in the big-screen version of the classic book series. Despite the fact that he's on unfamiliar territory, Carter is tasked with saving the planet and its princess, who he falls in love with. The mostly shirtless Kitsch is a commendable leading man, but the plot feels a little stale is this visually stunning feature. The DVD doesn't come with extras, but the Blu-ray/DVD combo includes deleted scenes, a blooper reel, commentary by the filmmakers, and "100 Years in the Making" and "360 Degrees of John Carter" featurettes.
52%
One more release when you read more.
Journey 2: The Mysterious Island
Dwayne Johnson joins Josh Hutcherson and Vanessa Hudgens in the sequel to Journey to the Center of the Earth. In this installment, Hank (Johnson) chaperones Sean (Hutcherson) and Kailani (Hudgens) to a mysterious island where Sean's grandfather (Michael Caine) is supposedly located. They find him, but they also find a lot more than they bargained for when they encounter supersized insects and some terrifyingly large dinosaur eggs. The two-disc combo pack includes an interactive map feature, a gag reel, and a deleted scenes reel.
42%