John Hawkes Interview For The Sessions
John Hawkes Talks "Unintentionally Funny" Sex Scenes and The Sessions' Award Buzz
In The Sessions, John Hawkes plays polio-stricken Mark O'Brien, a writer who hires a sex surrogate (Helen Hunt), after he decides he wants to lose his virginity. The film, which comes out this week in limited release, is already garnering Hawkes award buzz for his very challenging role — real-life journalist Mark was confined to his bed and paralyzed from the neck down. It's also a surprisingly funny performance, and I recently chatted with Hawkes with a group of reporters to talk about how this part differs from his darker, previous roles, the physical issues of playing Mark, and the relationship he created with Hunt.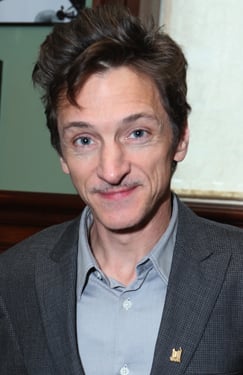 What kind of preparation did you do to play Mark?
John Hawkes: Do you have an hour? It was a lot of [reading] young Mark's writing, which was a key into his inner life. He'd left us a biography, which was finished posthumously, called How I Became a Human Being. The physical side was a challenge. I may have even begun there. Jessica Yu's genius short film documentary Breathing Lessons was the greatest tool that an actor could have. That was the physical start — there was Mark, interviewed, and his polio-ravaged body. His attitude, his sense of humor, his literal speaking voice — once I saw that film, which was maybe a week after accepting the role, that changed everything. I learned to type and turn pages of books and make telephone calls with a mouth-stick. I made my own at home and worked until I got to the props department and they got me a better one when we got to shoot.
How was it working with Helen and shooting your awkward but intense love scenes?
JH: Helen and I didn't know each other, had never met before we were cast in this film. We had a couple of script conferences with the director Ben Lewin, where we'd sit on either side of him and we'd just go scene by scene and ask about certain lines, but Helen and I didn't really talk to each other through that process. We were kind of speaking through Ben, and we found out that Mr. Lewin was going to give us the great gift of shooting the sex surrogate sessions — how's that for alliteration — in chronological order. That was the greatest gift we could have received; we could build our relationship on camera, so without speaking about it, we gave each other a great deal of distance, kind of avoided each other, and the very first surrogate scene that you see between she and I is capturing moments that are happening for the very first time. We didn't rehearse much. It was unwieldy, awkward, unfamiliar, unintentionally funny, and all those things are things that we wanted.
To read more of Hawkes's interview, including how he feels about the Oscar buzz, just keep reading.
Compared to other roles you've played, how did playing Mark impact you?
JH: Some of the darker ones take a piece from you. I've learned to try to be careful, because to pretend really intense darkness and hatefulness is a thing that's difficult to do. I have no formal training as an actor; the only thing I can do is try to read the script over and over again and pretend the circumstances in my head over and over and that can rip a little piece of you. This character brought a lot of light to me. He was a very funny guy; he was a fighter. I'm really attracted to characters who, rather than wallow in their self-pity even though they have every reason to . . . continue to punch and fight for what they want, and Mark was one of those guys.
What was the audition process like?
JH: It was really easy because I didn't have to audition [laughs]. It was short, very short. My audition, I guess, was to meet with Ben Lewin, the writer-director, who I didn't realize was a polio survivor until he got out of his car with crutches. We made our way, on a rainy night into a West LA deli, and we sat and talked for a couple of hours. We realized we saw the story in the same way and wanted to tell it the same way. My first question to Ben was, why not a disabled actor, an underrepresented group of people, and people who would be uniquely qualified to tell this story? Ben feels that political correctness is a form of censorship. I don't think Ben views himself as disabled first, but human first. He told me he'd spent a lot of time auditioning and meeting with actors, able-bodied and disabled, and just hadn't quite found his Mark O'Brien. So really the audition was us talking and him deciding before the interview ended that I'd be the guy if I wanted the part. I took several days to decide. It's a daunting task to play the character who is the lead in a film and only moves his head 90 degrees, has no movement below the neck. It was something to think about, for sure. And the fact that Ben hasn't directed a movie in 18 years gave me pause, but I would just read the script every day and think, this guy knows how to tell a story.
What did you learn making this movie?
JH: I was raised in a small town in Minnesota long ago when the civil rights movement was happening and I was taught that even though I come from a predominantly blond, blue-eyed little town in the Midwest, that people of all color and creed are of equal value. However, while I was being taught that, the disabled kids were somewhere else. I wish I had been taught more. In general, to see someone wheeled down the street who's disfigured, I feel it's a natural thing for all of us to want to turn away. I feel this film taught me to just try to see everybody a little more and to say, 'I see you,' figuratively, and to lose fear of those who are different from us and to realize we are more than our bodies.
How do you feel about the best actor award buzz for this role?
JH: I don't really pay any attention to things that are out of my control, to be honest with you. I think that a lot of people were surprised when I was nominated for Winter's Bone. I don't think I was on all the lists by any means. Believe me, no one was more surprised than I was. Again, who knows what will happen. The buzz, the talk, in a way, makes me nervous to think about it. It's an intense thing — the Oscar evening and events leading up to it. But it brings more people to the movie, and that makes me really happy.
How did you feel the finished film compares to Mark O'Brien's original story?
JH: I feel we were pretty faithful to that on many levels. When you make a narrative feature, it's not a documentary, and it kind of becomes its own story. I feel like Ben Lewin did a very faithful job of adapting it and yet making it personal to all of us and making the film we wanted to make. Obviously to have Mark's writing was a huge boon. All of his writing helped a great deal, and hopefully our film captures the spirit of (O'Brien's article) "On Seeing a Sex Surrogate."
You're also in Lincoln with Daniel Day-Lewis; is he a shoo-in for the Oscar, or are you going to give him a run for his money?
JH: It's a testament to the amazing work of Daniel Day-Lewis, that from a poster and before the trailer came out that [there was buzz that] he's going to be nominated for an Academy Award. I have a very small role in Lincoln, but I did get to work with him for about 10 hours. I never met Daniel Day-Lewis, but I got to hang out with Abraham Lincoln for a few hours, which was an amazingly wonderful thing. I can't wait to someday meet him as himself! I hope I someday do.