John Krasinski to Leave The Office After Season Six
John Krasinski Is Leaving The Office: Oh Noez!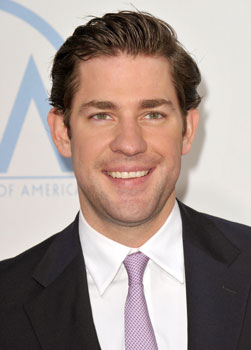 I know I've been complaining a bit about how smug Jim Halpert has gotten these days, but I didn't mean I wanted him to leave Dunder Mifflin! John Krasinski has confirmed that the current season of The Office will be his last, so he can take time to focus on movies and his career as a director.
In all honesty, it makes sense for Jim to move on with his career after six years selling paper, even if this news breaks my heart. The real question is — how will they write him off? Will he get transferred again, leaving Pam and Cecelia behind on the show? Will the show survive without its resident prankster? Now please excuse me while I put my stapler in Jell-O as a commemoration. To see what his costars have to say about his departure, just
.
APRIL FOOLS!!!!! Rest assured, you can continue proudly sporting your I Heart Jim T-shirts — Krasinski isn't going anywhere for now.