Impressive raps, clever mashups, and an outrageous selfie had us cracking up this week. Johnny Depp gave out a spontaneous kiss on TV, a maid of honor channeled Eminem, and one Saturday Night Live fan created a funny tribute to Will Ferrell's Harry Caray impression. As you ease into the weekend, have a laugh over the videos and pictures that captured our attention this week:
Johnny Depp Kisses Jimmy Kimmel
Johnny Depp visited Jimmy Kimmel Live! to promote his new movie, The Lone Ranger, and while he was there, the two got close. As in, really close.
An Incredible Maid of Honor Rap
At her older sister's wedding, Jennifer Gabrielli delivered one seriously impressive maid of honor toast, changing up the lyrics to Eminem's "Without Me." Black hoodie and all, this girl can rap.
Harry Caray Meets "Ho Hey"
In this hilarious mashup, Will Ferrell's SNL Harry Caray provides all the necessary "heys" for "Ho Hey" by The Lumineers. He also contributes a "hot dogs" for good measure.
Read on for more funny finds of the week.


WTF Parenting Quotes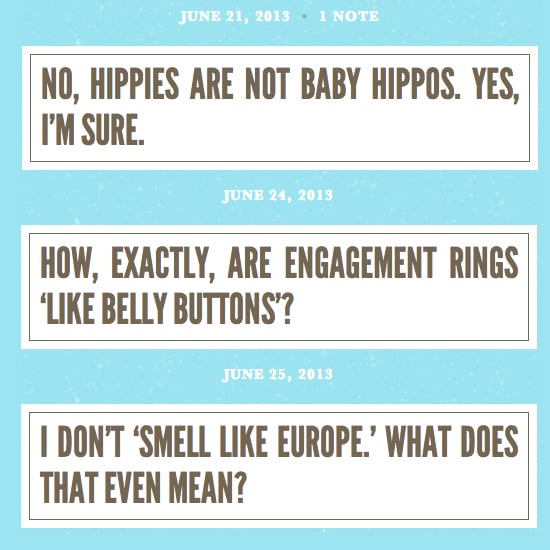 On the WTF Parenting Quotes Tumblr, one mom shares the strange things she finds herself saying when she's talking to her son. FYI, hippies are not baby hippos.
Frasier Goes Futuristic
In this reimagined Frasier clip, also known as "Laser Frasier," Frasier is having a one-on-one conversation with congressional candidate Phil Patterson when things get weird.
The Field-Run Selfie


During the College World Series game in Omaha, NE, three girls ran onto the field — and one decided to capture the moment on camera for the ultimate selfie.
Two Dogs and a Shopping Cart
In a totally random but hilarious scenario, one dog takes another dog on a journey. The two travel along railroad tracks, through a field, and on a boat — one pushing the other in a shopping cart — before finally reaching their destination.
The Hoff's Latest Video
David Hasselhoff's most recent musical endeavor is a commercial called "Thirsty For Love." There's some cliff-top dancing, fireworks, and hang gliding — all in the name of loving an iced drink, of course.
Obama's Rap Cred
President Obama visited the Desmond Tutu HIV Foundation in South Africa this week, and while he was there, one boy agreed to rap for him. It's an impressive rap, but the laugh comes with Obama's final suggestion: "You gotta drop the mic!"