Jon Bon Jovi, Jon Hamm, Jason Sudeikis, and Dean Winters to Guest Star on Valentine's Day Episode of 30 Rock
Who Do You Want to See Liz Lemon End Up With?
Liz Lemon is going to have an interesting Valentine's Day: for 30 Rock's Feb. 11 episode, some of Liz's old flames are reuniting and guesting on the show. Expect to see ex-boyfriend Floyd, played by Jason Sudeikis (my personal fave), beeper salesman Dennis Duffy (Dean Winters), and her deflated fling Dr. Drew Baird — the too-perfect Jon Hamm.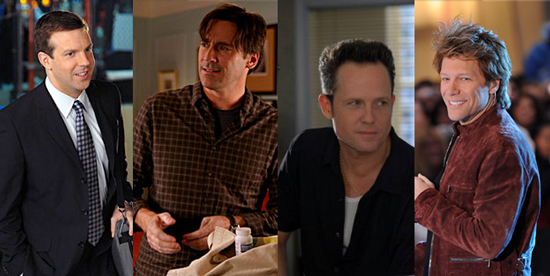 The show has one surprise in store, though: Jon Bon Jovi is set to appear as well! It goes without saying that I'm dying to see when they dated, the seriousness of the relationship, and if Bon Jovi will be playing himself. In any case, this casting news has me wondering who I liked Liz with more. All the guys may no longer be available, but still — who do you want Liz to be with?