Jon Cryer Emmy Press Room Interview 2012
Jon Cryer Says Miley Cyrus "Brought It" on Two and a Half Men
Jon Cryer won the Emmy tonight for outstanding lead actor in a comedy, and though it's not his first win for Two and a Half Men, it is his first award for lead actor; the last time he won, it was in the supporting category. When Cryer hit the press room, he talked about that distinction, as well as how the landscape of the series has changed since Charlie Sheen's exit. Cryer kept it light, emphasizing that he did not expect to win, and he even had a chance to address the haircut of upcoming guest star Miley Cyrus.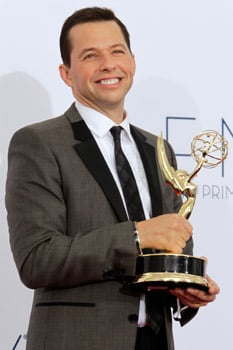 On not expecting to win: "I'm as shocked as you people. That's why my speech sucked."
On the biggest challenge of the show this year: "The biggest challenge this year was relaunching the show. The biggest thing was, 'Can this thing continue?' That it has is amazing, and that this happened is ridiculous."
On how the chemistry with Ashton Kutcher is different than it was with Charlie Sheen: "Clearly, it's totally different. With Charlie it was automatic. With Ashton, Ashton and I are always working on it, and coming up with new stuff. Show nights go incredibly fast now."
On submitting his name in the lead actor category: "When Charlie and I were doing the show together, the show really rested on Charlie. The show was really structured around his character. It felt silly for me to be a lead. Obviously the show changed; they changed the show into more of a partnership."
On Melissa McCarthy's funny Emmy introduction: "That woman can do no wrong. She makes me howl with laughter, so I'll take it."
On being upgraded from supporting actor to lead actor: "I will be impossible to live with after this. I will be brandishing this."
On who he thought would win: "I thought Jim Parsons was going to win again. Clearly Big Bang is at the top of its game right now, and it obviously has not gotten any worse. I just did not for a minute think this was going to happen."
On Miley Cyrus, who is guest starring on Two and Half Men this season: "She plays kind of a motormouth character, so they gave her page-long monologues. All week she was on book with them, which is understandable. But even when we got within two hours of the show, she was still on book, and we were thinking, uh oh, Miley better bring it. Miley brought it. Miley was fantastic, on fire. Then I remembered, oh yes, she was hatched in the Disney labs in Burbank, and grown for just this sitcom situation. I know her haircut is controversial but I lay on the side of: I love it, I think she looks fantastic."