Joshua Ledet Eliminated From American Idol
American Idol: Was the Right Person Voted Off?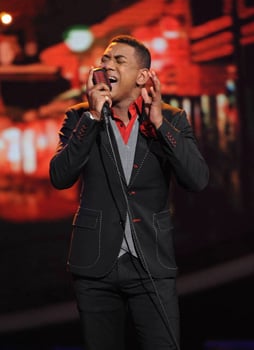 Joshua Ledet has been let go of season 11 of American Idol. I don't know about you, but I just overreacted a little bit. My neighbors might come over and check to make sure if I'm all right after the shriek that I let out when Ryan announced Phillip Phillips would be joining Jessica Sanchez at next week's finale. Admittedly, I haven't been championing Joshua over the past couple weeks, but that's just because I figured the judges were doing it so much that I didn't need to. Apparently the soul singer could have used the extra help.
At least we got a couple performances leading into the elimination. I did a double take when I saw Lisa Marie Presley up on the Idol stage, then another one when Adam Lambert showed up, glowing all kinds of neon. It wasn't a bad show, I'm just surprised at the outcome. So was Steven, who, if you didn't catch his reaction, had an "I'm not impressed" look slapped all over his disapproving face. What do you think — was the right person voted off?