Julia Louis-Dreyfus Emmy Press Room Interview For Veep
Julia Louis-Dreyfus Says Her Latest Emmy "Is a Hell of a Lot of Good Fortune"
Julia Louis-Dreyfus is now a three-time Emmy winner after taking home the trophy for outstanding lead actress in a comedy for Veep. The TV veteran was exuberant in the press room, expressing how grateful she is to have won for three different series (she previously won Emmys for Seinfeld and The New Adventures of Old Christine). Louis-Dreyfus also spilled about what she'll be doing after the Emmys wrap and what TV shows she unwinds with.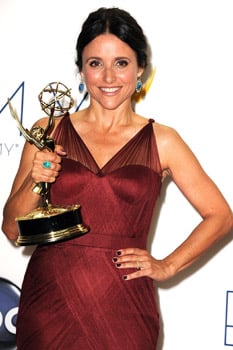 On how it feels to be honored for three different TV series: "I would say this is a hell of a lot of good fortune. I'm particularly moved to get this for a third series that I've done. I need an Advil. I have a headache! I can't believe it. I'm very thrilled and moved."
On how current politics influence Veep: "It's greatly influenced me and where the show's going. It's an amazing time in politics. Frankly I think all time in politics is kind of amazing in a certain level. It seems front and center right now in our lives. There's a lot of good, rich material from which to glean, not parody; there are little morsels we can take away, almost every day, it seems."
On how she's going to celebrate: "I'm going to have a glass of wine. My husband and I brought our 15-year-old son to the show tonight, so it's very exciting that he's here. He'll go to the Governors Ball with us and then go home because he has school tomorrow. His dad and I are going to go out and live it up a little for sure."
On her favorite shows: "I watch Colbert, I watch The Daily Show. Face the Nation, C-SPAN, Homeland, Breaking Bad, Curb Your Enthusiasm, and Girls. And Boardwalk Empire!"