Julianna Margulies is the 2010 Golden Globe Winner For Best TV Drama Actress 2010-01-17 17:46:08
Do You Agree With the Globe Winner For Best Actress in a TV Drama?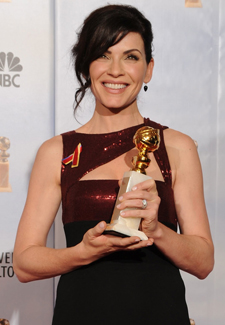 Julianna Margulies is the winner of this year's Golden Globe in the Best TV Drama Actress category! She won her first ever Golden Globe for her role on freshman drama The Good Wife. She beat out Glenn Close, January Jones, Anna Paquin, and Kyra Sedgwick. Do you agree with this win?
Don't forget to weigh in on all the big winners by voting in my polls!