Julianna Margulies Press Room Quotes For Winning 2011 SAG Award For The Good Wife 2011-01-30 18:43:31
Julianna Margulies Calls Her SAG Award "An Embarassment of Riches"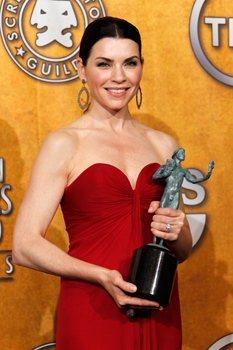 Julianna Margulies won the SAG Award for outstanding female performance in a drama for The Good Wife for the second year in a row tonight. After her speech, she popped into the press room to talk a bit about her win, how happy she is to have the role, and what still makes her nervous during award season.
On winning the SAG two years in a row: "I was overwhelmed, honestly, I was taken aback. Last year it felt like the character was someone people related to, and in the sophomore year, I think the writing has become more complex, more interesting. It's such a fun role to play, I'm so grateful to have this job let alone be recognized for it and have people watch. It's an embarrassment of riches and I feel very lucky."
On her character being a little too relatable: "I've had women come up to me and start weeping to me about their cheating husbands. There's moments I don't want them to think I'm someone to give them advice!"
On the role that got her her SAG card:"Are you ready? Steven Seagal's Out for Justice. I played a hooker with a heart of gold, which is what you do in a Steven Seagal movie. I made $2,000, I remember. I've come a long way. Now my husband sleeps with them apparently."
On what makes her nervous during award season: "The red carpet is the only thing that makes me nervous. Once I get through that, anything can happen. It's a little daunting, a lot of people yelling. I'm an actress so I'm still trying to perfect that hand on the hope. I find it a very strange juxtaposition between the art of acting and the art of fashion."