Justin Long Cast on Mom With Anna Faris
Justin Long, Octavia Spencer, and What Else You Can Expect From Anna Faris's New Show
If Anna Faris and Allison Janney aren't awesome enough names to lure you to check out CBS's new series Mom, how about Justin Long and Octavia Spencer? Executive producer Chuck Lorre announced during the show's TCA panel that Long and Spencer are set for guest arcs on the show, and that's not all. Lorre, Faris, Janney, and costars Nate Corddry, French Stewart, and Matt Jones dished on what audiences can expect to see from the comedy about a recovering alcoholic (Faris) entering a new chapter in her life.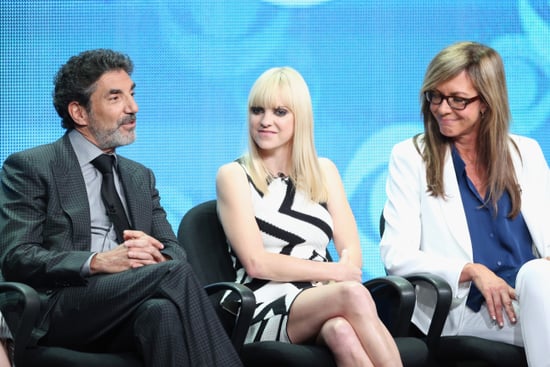 The most exciting news to come out of the panel is that Mom has already nailed down some great guest stars: "There's going to be a love interest in Christy's life played by Justin Long," said Lorre. Long will appear within the first few episodes, and he'll "be the first shot at a meaningful relationship in her new life." That's not all; Octavia Spencer will show up in episode five as "a woman who, it turns out, has bigger problems than Christy."
Until now, Faris has mainly worked on movies, though it sounded for a minute like we wouldn't see her at all onscreen: "I have a son, so I was thinking maybe I'll just let my husband work, and I'll just laze by the pool," Faris said. Lorre made it clear that she's the perfect person for the role. He explained that when he sent the script to his casting director, it came back with two words on it: "Anna Faris."
Lorre commented that he has wanted to "tell a story about a woman starting her life over again" for a while now, and for this particular story, that involves Christy getting — and staying — sober. When questioned about how to have a comedic character on primetime going through very real and serious issues, Lorre made it clear that "her efforts are entirely focused on redeeming her relationships with her kids and with people at work." That doesn't mean we won't get hints about her past. Faris mentioned, "We are hoping for some flashbacks." This is especially the case when it comes to Christy's "colorful" relationship with her mother, played by Janney.
Janney earned her primetime stripes on The West Wing, but she's happy to let loose and play someone who isn't quite so buttoned up. Of her character in Mom, she said, "I couldn't be happier. The messier, the bigger they are, the more they're rooted in sadness and dysfunction." She did assure everyone that the craziness doesn't carry over to real life: "I am a very well-adjusted, happy lady."