Justin Long on New Girl Thanksgiving Episode
4 Reasons I Want Justin Long's New Girl Character Over For Thanksgiving Dinner
Justin Long began his three-episode arc on New Girl this week as Paul, the music teacher and co-worker who joins Jess and her roommates for Thanksgiving dinner. Jess also has a huge crush on the guy, and I can't say I blame her; not only is Paul adorable, but he's also an awesome guest who would spice up any real-life Thanksgiving dinner with his quirky but charming ways. Check out the top four reasons I'd like Paul to make a guest appearance at my Thanksgiving dinner.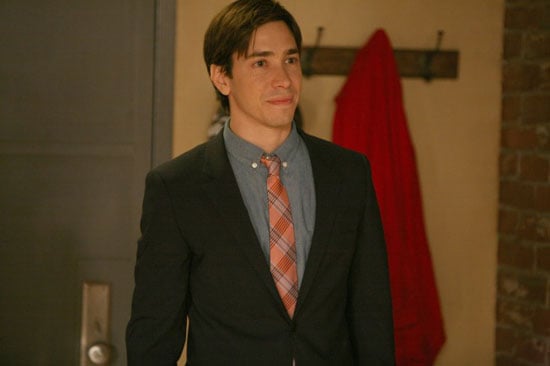 He provides musical entertainment. Paul not only performs in the Thanksgiving musical (playing the riveting role of a gourd) at the school where he and Jess work, but he also shows up at dinner armed with a violin. He's also willing to sing at the drop of a hat, joining Jess in one of her impromptu songs as soon as he walks through the door. If there's a better way to distract from the inevitable family tensions that arise at the dinner table, I'd like to hear it.
He knows how to hold his liquor. You won't have to worry about Paul overindulging in alcohol and making a drunken fool of himself — or your guests — at your Thanksgiving feast. He cuts himself off after two pumpkin ales, even though he's not even remotely tipsy. (Side note: How cute is it that his drink of choice is pumpkin ale?) Though he'll offer to run out to the store to pick up food for you, he makes the responsible choice of choosing not to get behind the wheel while doing it.
He values family. Jess invites Paul over for Thanksgiving dinner because the woman he usually spends the holiday with — his grandmother — has recently passed away. That doesn't stop Paul from talking about his Nana and how much she meant to him, reminiscing about how they used to watch the Macy's Thanksgiving Day Parade together, and even pulling up a picture of her on his iPhone. But Paul's not self-centered; he'll take the time to ask you about your grandparents too, like he does with Winston.
He has a contingency plan when dinner is ruined. Jess and her friends have to ditch Thanksgiving dinner after they destroy their turkey by trying to defrost it in the dryer, and then they find an unappetizing surprise at their neighbor's place. But good ol' Paul pulls through by bringing them foot-long turkey subs. Could he be any sweeter?
What did you guys think of Paul? Would you set aside a place setting for him at your table?