Kanye West Writes a Song For Taylor Swift
Kanye Writes a Song For Taylor Swift — Can't Wait or Too Late?
While most of us were off celebrating the end of Summer, Kanye West spent the weekend thinking about last year's MTV VMAs (or more specifically, the chaos he ignited). On the one year anniversary of the Beyonce endorsement heard 'round the world, Kanye West took to his Twitter account once again to apologize to Taylor Swift for ruining her big moment.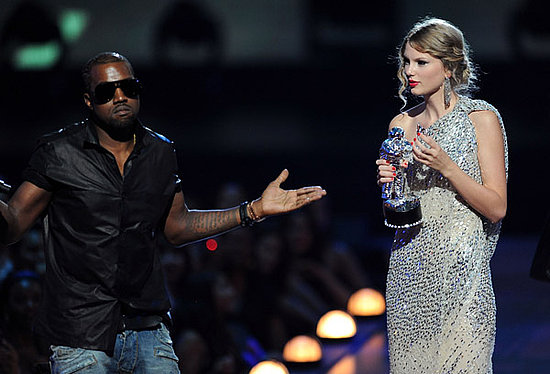 Kanye's been known for his incoherent rants, and in the midst of his 30+ tweet tirade there are plenty of tangents (including one about the musical Wicked and a comparison between the human ego and hoodies). However, there is an apology to extract from the stream of consciousness, and a tweet revealing that Kanye has written a song just for Taylor Swift. With Kanye's VMA performance coming up this Sunday, I can only dream that he'll incorporate this new tune into his stage time — what better time than to make a public apology? One can never predict what Mr. West will do, but are you looking forward to the possibility of hearing the song?