Kara DioGuardi and Jewel on Platinum Hit Panel at 2011 Winter TCA Quotes
Kara DioGuardi and Jewel Sing the Praises of Platinum Hit, but Don't Ask About American Idol
The Winter TCA got real today when Bravo's new competition reality series Platinum Hit took the stage with host Jewel and head judge Kara DioGuardi in the forefront. While the two music industry vets were passionate about their new show (a songwriting challenge), the elephant in the room was DioGuardi's exit from American Idol, which just wowed the TCA with its newly star-studded judging panel earlier this week.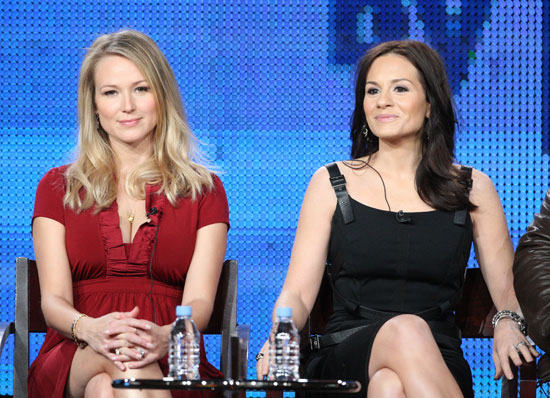 As for Platinum Hit, executive producer Glenda Hersh says that it's about the songwriting process, and Jewel added that its "about finding hit songs," telling the audience that "there's a world of hit-makers out there" that hasn't been portrayed on TV yet. It's not a singing competition, and the panel gave the impression that writing music is tougher: "You can't fake your way through writing a song," Jewel said.
If you were hoping to find out the exact circumstances of which DioGuardi found out she was no longer part of American Idol, too bad. When she deflected the question, saying, "I'm happy to address that with you privately," the room of reporters booed. To follow that up, she asserted that Idol "was an incredible experience, it really was, but I'm here as a hit songwriter" for Platinum Hit.
DioGuardi talked about her career as a hit-maker (you know, prior to that Idol business), and mentioned that it's how she and Jewel originally met. The business of writing songs, Jewel said, "is a goldmine," and DioGuardi agreed: "I bought my house from it."
Stay tuned to Buzz for more TV news from the Winter TCA!