The Karate Kid Movie Review Starring Jaden Smith and Jackie Chan
The Karate Kid: Wax On, Wax Awful
I knew going into this year's remake of The Karate Kid that it would never live up to my appreciation for the 1984 original starring Ralph Macchio and Pat Morita. I gave it the benefit of the doubt by judging it as if there were no predecessor to compare it to, but it doesn't matter: The Karate Kid fails on its own and as a remake.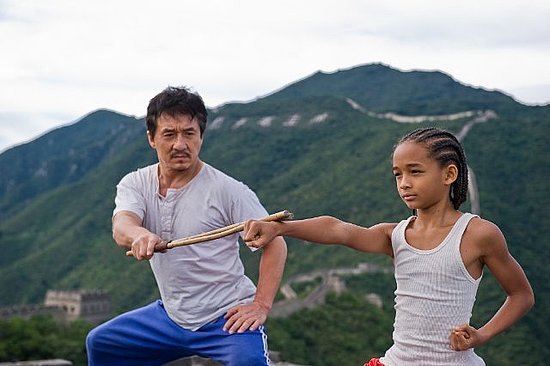 The movie certainly strives to set itself apart. This time around, Jaden Smith and Jackie Chan play the karate student and teacher, respectively. As Dre, Smith is a cute young thing. His casting is the best thing the movie has to offer, but that's as far as my compliments for this film go. To hear more about what I didn't like about The Karate Kid, just keep reading.
Dre gets his outsider status from his relocation to China with his mother (Taraji P. Henson, who's sweet but squandered). The foreign setting and change in Dre's character's age (he's 12) start out as good differences from the original, but the variations quickly become superficial. There's no exploration of the cultural impact on Dre, or any reason given as to why he's bullied the moment he reaches his new home. It's simply a hurried plot device to garner sympathy for the young kid — and it works in a very easy way, as it's downright painful to watch little Dre get the snot beaten out of him (repeatedly!).
The villains are blandly one-dimensional — again, they're just shepherded into existence to push the story forward. The story, then, is Dre's friendship with Mr. Han. Their relationship blossoms, as you expect it to. But there's no real tangible bonding between them (aside from a scene in which Mr. Han's reveals his painful past, which is unnecessarily sad and contrived). Their alliance is just so, the same way one training montage transforms Dre from weakling to kung fu star.
The nail in the coffin on The Karate Kid is its length: at 140 minutes, the movie has been pointlessly stretched to fit a tedious running time. Had it been cut down by thirty minutes or more, it could have been slightly more entertaining. But to call the lack of editing a misstep is beside the point — making the movie at all was the misstep.