Kate Winslet Emmy Press Room Interview
Kate Winslet Talks About Her "Wonderful" Emmy Win and Being "Thrilled" by Guy Pearce's Comments
Kate Winslet took home the outstanding lead actress in a miniseries Emmy tonight for playing the title role in Mildred Pierce, and the actress made sure to drop by the press room to gush about how happy she was to have won. Just like in her acceptance speech, she assured everyone that she really didn't expect to win, and she shared how thrilled she was to hear costar Guy Pearce talk about their sex scenes in his own acceptance speech for the miniseries.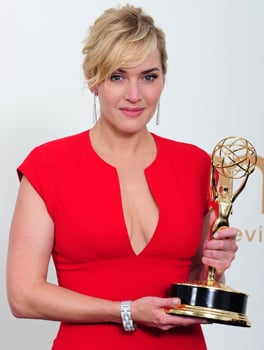 On people not believing that she didn't think she'd win: "I was extremely unprepared and I didn't think I was going to win at all. I'm so thrilled to have won this, and it just comes out the way it comes out."
On her reaction to Guy Pearce's sexy comments about her "I'm thrilled. I had a crush on Guy Pearce since I was 11 years old, so just to stand in the same room as him was really thrilling to me. To hear him say all of that tonight was more of a thrill."
On what she learned from playing Mildred Pierce: "It's more a question of what didn't I learn. I learned a great deal from Todd Haynes, who is an extraordinary director and a real partner for me. When you have the opportunity to play a woman of such magnitude and vulnerability, you have to tread very carefully and hope you're covering all the bases. Todd was certainly very much there for me and holding my hand, so I'm really grateful to him."
On whether she had any idea she would have such a long and successful career: "Absolutely none whatsoever. None. I come from a long line of actors who spend most of their lives largely out of work. So I knew when I wanted to pursue this great dream I had, I knew I probably wouldn't work very often and I ought to think about part time jobs along the way. I've been extremely blessed that this has been my only job since I was a teenager, and winning an award like this tonight, It's so wonderful. I can't even describe it."
Keep coming back for even more priceless winner quotes from the Emmy press room!