Katie Holmes Interview From Don't Be Afraid of the Dark Movie
Katie Holmes: I "Held My Daughter Closer" After First Reading Don't Be Afraid of the Dark
Katie Holmes linked up with her Don't Be Afraid of the Dark producer Guillermo del Toro recently in NYC to chat about their scary film. They were in Australia nearly two years ago shooting the project, which was directed by Troy Nixey. Katie dished about their shoot down under, saying she loved their desserts — actually, after the interview was over, Katie beelined to the junket's dessert tray to eat sweets with young costar Bailee Madison. Katie had kind words to share about Bailee and Guillermo, and shared her favorite movies of the moment and how she prepped to act in such a scary film. Katie said: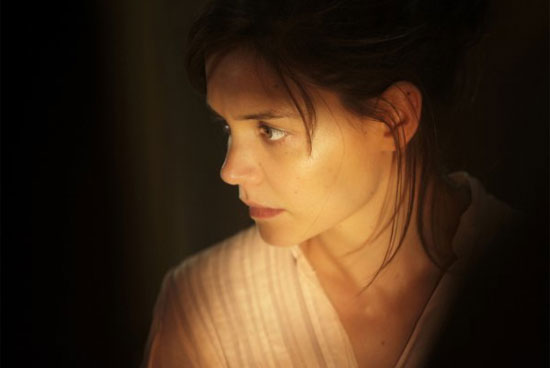 On getting to know Bailee on set: "It was a pleasure working with Bailee and getting to know her mom Patti. They're so lovely, such a nice family . . . I think it's really fun to work on movies because everyone's families get to know each other. I know Guillermo's family, he knows my family, and we all stay in touch. We're all raising children in a very creative environment — it's great fun. Bailee is a very strong human being and she is so good at what she does. We're going to see many of her films over time."
On doing the movie: "I was really excited to work with Guillermo, first of all. And I love this script. I was scared reading it. I love these characters and I really loved [my character] Kim's journey from really resisting a relationship with [Bailee Madison's] Sally then getting to the point where she can identify with Sally. I love that emotional tension and then turning it into a great emotional art. It was really fun and challenging, and I really loved how strong these two female characters are. It's great to see on film and it's really fun to portray."
On being on the set: "We loved Melbourne, Australia. The people in town were so lovely, and they have the best doughnuts and great bookstores and great pavlova."
On watching scary movies growing up: "I did! I was affected by them, and when I read this script, I was so terrified that I started hearing noises — and I kind of held my daughter closer and looked in the corners of her bedroom a couple of times. I really enjoyed being a part of this, because I really do think it takes the audience on that thrill ride."
To read more from Katie about how she prepped, playing opposite make-believe creatures, and the legacy of strong women in scary films, just
.
On how she prepared: "Fortunately we had a lot of time prior to shooting, and Guillermo is very generous with his time and insight, and helpful. To me, I have to sort of sit down and make sure that I am doing it right — at what point does she discover this, and how is she feeling here, etc. — just so that you know what the rules are for a particular scene and then you can play with it within those boundaries."
On playing opposite creatures later added with CGI: "I had seen what they looked like, so I had that in my mind and I was working opposite pieces of tape. What was great was I wasn't playing a character that was running from them. I was fighting them, taking control over them, so it was challenging — like squatting them and punching them. You wanted to make sure you were doing it at the right time 'cause it was important. So it was challenging in that way. It was one of the things that was really fun and creative about this movie . . . It was fun to go see what they looked like and what they were creating."
On working with Bailee Madison: "Bailee is very gifted; she's a great actress. It was like working with an actor at any age. She is just really good at what she does. It was thrilling and inspiring like it is when you work with good people."
On her favorite movies of the moment: "It's more like favorite movie this week. This week, Notorious and — because that's what I watched!"