Keanu Reeves Says There Will Be Two More Matrix Films in 3D
Do You Want to See Two More Matrix Sequels?
UPDATE: A rep for Reeves says that "none of it is true."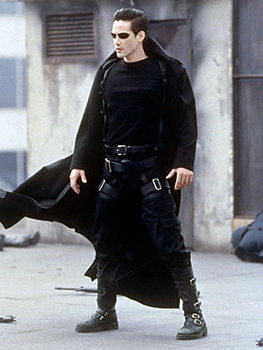 It's been eight years since the last Matrix film was in theaters, and the special effects the sci-fi movies inspired have grown leaps and bounds since then. However, the franchise might be on the verge of a revival, and in 3D, no less (would you expect any different these days?). According to star Keanu Reeves, the Wachowskis have finished a two-script treatment for a pair of sequels to The Matrix and the filmmakers had met with James Cameron to discuss the use of 3D.
I'm torn; the way the trilogy ended was pretty disappointing, but the first Matrix was such an innovative and compelling film. I think the Wachowskis have the potential to show us something really amazing with the technology that's available today — but I also want to see a more satisfying story than what the final film provided. What do you think? Do you want to see The Matrix boot back up, or should it stay unplugged?