Kellan Lutz and Ashley Greene Hold Up Twilight Breaking Dawn 2010-05-11 10:30:06
Would You See Breaking Dawn Without Kellan Lutz and Ashley Greene?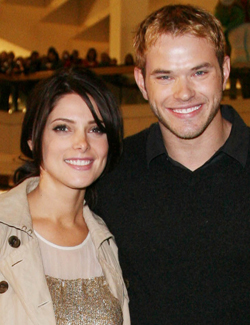 Oh noez, the Cullens are having family problems. Kellan Lutz and Ashley Greene are reportedly requesting monster-sized salaries in the case that Breaking Dawn is split into two films — and they're holding up production. Robert Pattinson, Kristen Stewart, and Taylor Lautner have all signed on for the franchise's final installments, but Lutz and Greene are asking for paychecks that a source calls "offensive," and the studio is not happy. The possible outcome: one of them (or both) may get recast if a negotiation cannot be reached.
It's not that far-fetched. Keep in mind that Rachelle Lefevre was replaced by Bryce Dallas Howard when she had a scheduling conflict, so I wouldn't be surprised if Greene and/or Lutz got axed. But will die-hard fans still go see the film with stand-ins, or will it hurt ticket sales? And furthermore, who should take over the roles?