Kevin Dillon on How to Be a Gentleman and Entourage
Kevin Dillon Talks Making the Transition From Entourage to How to Be a Gentleman
CBS's Fall schedule has plenty of returning sitcoms, but the network managed to squeeze in a couple more. In addition to 2 Broke Girls, there's How to Be a Gentleman, which stars David Hornsby and Kevin Dillon as a pair of high school rivals who become friends as adults. It's an Odd Couple-esque story, with Dillon's rough-around-the-edges Bert getting Hornsby's buttoned-up Andrew to loosen up and vice-versa.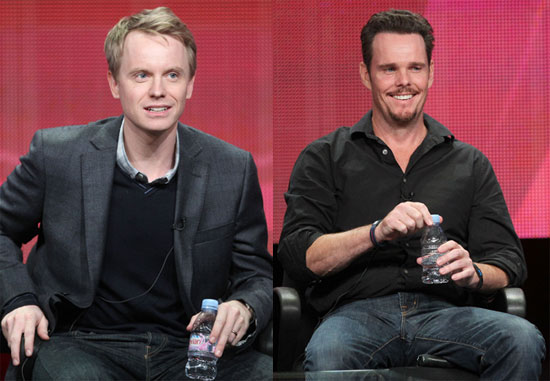 Hornsby, who also writes the show, said that he got the idea when his mother gave him a copy of How to Be a Gentleman for Christmas one year. He said, "My mom is very manners related. I identified with it [the book] growing up, as someone who grew up from manners."
Hornsby also assured fans of It's Always Sunny in Philadelphia that the gang's neighborhood crack addict isn't gone for good, saying "This will help keep me off the street" but "Cricket will be back always."
Kevin Dillon has had a big Summer, picking up work on How to Be a Gentleman shortly after wrapping the final season of Entourage. He said he never thought he'd do a sitcom, but fell in love with the script. He added, "It's fun to play the wild man, the crazy guy, and the guy who's just unpredictable. Bert seems a little bit that way to me. He seems like he's going be pretty unpredictable, kinda like Johnny Drama a little bit."
Mary Lynn Rajskub plays Andrew's sister on the show, but she's not going to lose her reputation as Chloe on 24 that easily. That said, the transition from drama to comedy might not be that difficult. She said, "I love Chloe on 24 and it was an amazing part of my life, but I was ready to lighten it up, do a little comedy. People have said that I was a little bit funny on 24, in some way. So with people laughing at me on a drama, I thought why not do a comedy and have people laughing at me on purpose?"
Rajskub also kept mum about the impending 24 movie, joking "It's either going to be me or Rachel Weisz playing Chloe. I've heard nothing, I've seen nothing."
Rhys Darby, perhaps best known for playing Murray on Flight of the Conchords, has a supporting role on the show as Andrew's brother-in-law. Though his new character is a bit dim, Darby promises that he's not another version of Murray. He said, "It's probably a bit early to say that this particularly character would be as naive as Murray. I think he has a sharp sense of humor, albeit a bit goofy. He's an earnest, honest guy. This character is more like me than Murray, definitely."