Kevin Smith's Red State Teaser
Red State Teaser: This Is a Kevin Smith Movie?!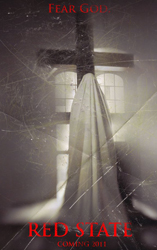 The teaser for the upcoming horror flick Red State is definitely not what we've come to expect from Kevin Smith, king of the slacker comedy. John Goodman and Melissa Leo star in the story of religious fundamentalism gone overboard in Middle America. But is it a scary movie or a political statement? Despite the somewhat obvious message pushing (just look at the title), it's interesting to see Smith branch out into a new genre. He must know what he's doing, because this footage is definitely disturbing. The film will premiere at Sundance next month, but give it a peek when you
.