Kevin Williamson Interview About The Vampire Diaries Season Three
The Vampire Diaries Creator Kevin Williamson Says It May Not Be OK For Elena to Love Both Damon and Stefan
The Vampire Diaries stars dished a lot on their characters and where season three will take them at their Comic-Con panel, but no one knows what's next for the supernatural series better than the creator himself, Kevin Williamson. The show's writer and producer sat down for a chat, and he revealed what's going to happen with the Damon/Elena/Stefan love triangle, why he decided to kill off Aunt Jenna, and more.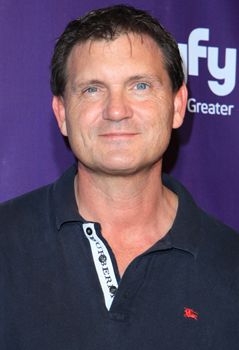 When we pick up, what will happen between Damon and Elena?
Kevin Williamson: Stefan has taken off with Klaus for a greater agenda: Klaus is up to something. And that's sort of the first chapter of our story and what that entails. It'll sort of be Damon and Elena's search for Stefan and how their relationship changes. At the end of season two, Katherine uttered that one line: "It's OK to love both of them," and we'll sort of watch that play out. And what does that mean? It meant one thing for Katherine; what's it going to be for Elena? Because you can love someone brotherly, you can love someone like a friend, and I just think [regarding] romantic love, it may not be OK to love both of them.
I think that's the journey. She's on a big journey, because yes, 100 percent yes, she's attracted to this man [Damon]. Yes, she's in love with Stefan; it's the epic love that's never going to change. So she's going to be torn. It's so tragic, these characters. And Damon is like this reluctant character who doesn't want to be the hero, it's not his role in life, he's not good at it. Elena's going to be there pushing him on to be the hero, but his nature is to kill people, so it's going to be interesting.
Click here to read more from Williamson's interview, including why they got rid of Jenna and whether Bonnie and Jeremy will survive his new ailment.
How did you come to the decision to get rid of Jenna?
KW: It was a hard one. I don't know if it was a decision; it was something that we toyed with maybe a little bit on and off the first year and then through the second year. We just sort of felt once we started developing the third season and we kind of knew that well, it would be great for Alaric to do this; it would be great for this stuff to happen. I couldn't really figure out where she might fit in in that world. And I just didn't want Aunt Jenna in the kitchen with the oatmeal, or the coffee, and just being this human character that just has those "WB scenes" in the morning. I wasn't quite sure what to do with that character. I struggled with it. It was the character: it's the aunt, it's the caretaker, it's the authority, it's the parent. I struggle with those characters on all my shows, quite frankly. So in a weird way, I thought, let's send her out in a beautiful way, and let's let it mean something and let's once again let our characters deal with death up front personally. I just thought it would have an emotional impact that would be devastating.
Will we ever see Jenna again?
KW: I've learned, never say never. I remember when I told Kayla [Ewell, who plays Vicki] that she was going to die, and how painful that was, because that's an actress we loved. As much as we love Anna, she came later. So the show had just started, we were one family, we were all on this journey together. And then she had to find out the hard way that she was going to die. And she was like, is it for certain? And I was like yeah, because if people don't die for real, our show doesn't mean anything. There's no consequences. And it was so sad. I was crying, Julie [Plec, executive producer] couldn't speak. It was just the most emotional day ever. Everyone was crying. But you know what? If we're a success and it's a big show and it has a life, I can't promise she'll never be back. We just kind of left a little glimmer of hope. And she [Kayla] was so great to come back [in the season two finale] because she could have said "screw you," but she didn't.
If characters like Jenna are the hardest to to write for, who's the easiest?
KW: Damon. I'm the go-to. Damon's my favorite character.
Are you introducing other villains this season?
KW: Well, we have Klaus, and with Klaus comes a whole host of problems, and people and characters. The werewolves are still out there, and now that [Klaus] is a hybrid, it's sort of interesting to see what he's up to with the Original family, which we hope to meet as the series progresses. I think there's eight family members, we said. I don't know how many we're going to be able to meet in one season, but hopefully we do it right and we'll have another season so we can build on that.
Will Matt get to stay human?
KW: I personally love him as a human character. I also want to show that relationship of how he views the supernatural world. Because Mystic Falls clearly has got something wrong with it, [in] that it attracts this paranormal activity. And it's going to be interesting to watch our one standing human character for a) to see how long he's alive, and b) what's his response to the relationships of all the people around him. I like him as a human and I wouldn't change it for all the world — unless of course we explored all that human stuff. I don't want to blow it. I like him being human.
Will Bonnie and Jeremy be able to make it work?
KW: We're telling the story in an interesting way. We're slowly sort of unveiling what these ghost-like people are. And so it'll be interesting to see how Bonnie gets in the middle of it and sort of helps him sort of stop seeing dead people. And also they're his ex-girlfriends. They're the two other people he's loved. The only two, in his entire life that he's loved. It's a total triangle/quadrangle.