Kiefer Sutherland Touch TV Series Interview at TCA
Kiefer Sutherland Talks About Coming Back to TV For New Drama Touch
It's Fox's turn today to show off its new shows at the Winter TCA, and the first panel featured a Fox alum we can't wait to see more of: Kiefer Sutherland. The star is headlining new drama Touch, as a man whose son has the ability to see hidden patterns that connect people all over the world. The mystical-sounding series is from Heroes creator Tim Kring, and he, Sutherland, and the other stars of the series talked about Sutherland's 24 legacy and what we can expect from Touch.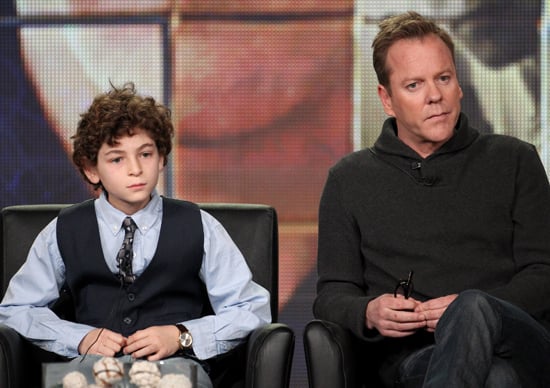 Sutherland insisted that though his new character is very different from Jack Bauer, he didn't choose Touch to distance himself from 24, but did call it a "a nice diversion" from the series. He said that when he first got a call about doing the show, he was performing in a play, and wasn't interested at first because he wanted more time apart from 24. When he read the script, though, "it spoke to me on a really profound level."
Sutherland's character Martin Bohm isn't like Jack Bauer, he says, and the focus is more about Martin being a father to his autistic, gifted son. But Sutherland does see a parallel between Bohm and Bauer: imperfection. "Jack Bauer was asked to save the day and there was always going to be casualties . . . it was never going to the perfect win." Of Bohm, he's "never going to have a perfect relationship with his son."
The other star of the show is David Mazouz, the young actor who plays Martin's son Jake (if you're a fan of The Office, you'll recognize him as Robert California's son). The character, who "sees" patterns through numbers and other sensations, has an acting challenge in that he doesn't actually talk. But Mazouz said, "I don't think Jake needs to speak, because he does communicate through his father, through his numbers." Executive producer Francis Lawrence praised Mazouz for his work on the character, saying, "David really worked on mannerisms, posture, the way he holds himself."
Sutherland assured reporters that his commitment to Touch doesn't preclude him from doing a 24 movie. He didn't have many details on the movie itself, but he did reveal that they'll hopefully begin shooting at the end of April or the beginning of May.