Kim Raver and Jesse Williams Interview About the New Season of Grey's Anatomy
Kim Raver and Jesse Williams Talk Surviving the Finale and What's to Come on Grey's Anatomy
Kim Raver and Jesse Williams represented the cast of Grey's Anatomy at the ABC TCA day in Beverly Hills over the weekend. Jesse, who was recently promoted to a series regular, brought his piercing blue eyes to chat about making the incredibly intense season finale. Kim and Jesse joked about having to learn all the crazy medical words and how they try to make up funny little devices to help each other remember the phrases. They also gushed about what has made the show a success for so long, despite all the off screen casting drama. Here's what Jesse and Kim had to say about what to expect when Grey's returns: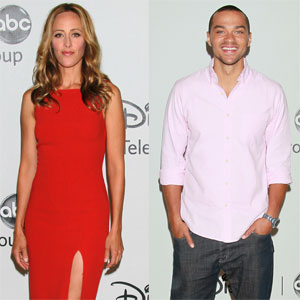 Jesse, congrats on being made a regular. How was that when you got the news?
Jesse Williams: It was wonderful. It was kind of a time-release period of information. I knew I got picked up for the option, and then I knew it was a possibility, and then a narrower possibility and then I got the news when I was overseas on a break during the hiatus. It was great. It was a nice little treat during the vacation to bring it all back together.
Both of you must have been excited to survive the finale.
Kim Raver: Exactly. It was like ooooh, one person down. Oh, another person down! I'm kind of used to that though, with 24. There's always that target on your back.
JW: That was a tenuous table read. Everybody's skipping ahead to see if your name appears at the end.
To read the rest of the interview, plus what to expect when Grey's returns, just
.
It was an incredibly intense finale — how was shooting it? How did you feel like fan reaction was?
KR: I think that it was very exciting. For a show to have longevity, especially in today's climate, is a big deal. I think Shonda and her team of writers are quite brilliant to have this episode where it resets the clock for so many characters. I feel like the reaction was very positive towards it. It was a hard episode for many of the fans to watch, but yet kind of thrilling. Not for the sensationalism, but for what's actually going to happen to these characters that everyone knows and loves. Then everyone has a new beginning to start off of. . . really it was a very smart move.
When the show returns, where will we pick up?
JW: We're picking up about two months later. It's in the aftermath as all of us are getting re-acclimated to how we're going to reenter our lives and the hospital and some of us have to go through some grief counseling.
KR: [Teddy's counselor] is James Tupper, he's handsome, so I'm just putting something out there.
How has Teddy's character changed after the love triangle?
KR: I think in exciting new ways. The triangle was a great way to infuse her into the environment and then it was at a point where it's sort of done. We have seen Owen make a choice and so the journey for Teddy is really, where does she go from there and how is she going to explore other people and territories in life?
Aside from romance, your character was a mentor to Cristina. Will we see a development of that?
KR: I hope so. I definitely think that will still be there, hopefully without the triangle element there. I loved the triangle when we started, but I didn't want it to get in the way of the Teddy-Cristina relationship, because I think that's a really great place and thing to explore.
Jesse, any new romances for your character?
JW: I haven't learned anything new about romance, but I'm sure something is coming up down the line. We were already the new guys in the hospital and lost two of our roommates and good friends in the finale. Sarah Drew's character and mine, Jackson and April, are again fish out of water. We just started to get acclimated and here we are again thrown upside down. We move into the house with everybody else, which is important for them and their sense of space and togetherness with the crew and also, it's symbolic. The show always has this core group and people share a living space and really start to experience and learn about each other 24 hours a day. We're getting injected into the core group.
So few ensemble casts can lose core characters and bring in new ones so well, what is the secret on Grey's?
KR: I think Shonda and her team — she has an extreme gift for storytelling and building characters that an audience can relate to the highs and the lows, so I think it's that. It's watching these characters that you love going through extremely painful moments that you can relate to in your life to extremely high successful moments and all the wacky fun in between. It's rare you can have a show with heavy drama and yet there's comedy.
JW: I think it's also a testament to the layering and the character development. It's the writing. The finale wasn't so amazing to people just because there was a gun in a hospital. People have become really, really attached to these characters. They know them in and out — they know how they react to the people around them, their back stories, their family life. The stakes become really, really high when you have that much information about these people and you have passionate feelings about them. Our fans are nothing if not passionate.