Kristin Bauer Interview About Maleficent on Once Upon a Time
Kristin Bauer Talks About Playing a Frenemy to Once Upon a Time's Evil Queen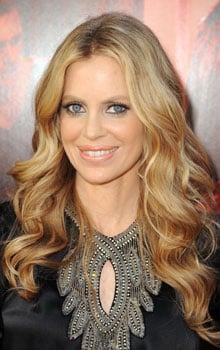 What do a pair of evil fairy-tale villainesses do when they get together to hang out? This week's episode of Once Upon a Time has evil queen Regina (Lana Parrilla) reuniting with one of her oldest friends — or frenemies, as the case might be — Sleeping Beauty's evil sorceress Maleficent. Kristin Bauer will be stepping into the role, and I chatted with the actress about what happens when two power-hungry and vindictive gals get together, as well as how her True Blood character Pam influences everything from her roles to her marriage. Bauer also filled us in on the True Blood rumors she's most excited about!
BuzzSugar: Maleficent is the evil queen's oldest friend, but the pair have a troubled history. Can you tell us a little bit about their background?
Kristin Bauer: Lana is totally amazing and so helpful to me and such a master in this world on Once Upon a Time. We tried to find a way to show that this is a really long-standing chess match. You know, you've got these two power players, and they're chicks and they're vain and they play in this game of revenge and helping each other and then trading evilness to help each other and then there's a real shift we're gonna see on Sunday. It's a real fork in the road for the evil queen's character because we saw a big one in the pilot, where she wields the curse and sends everybody to reality, but they don't know they're in reality.
As for True Blood, we hear that we might get a window into Pam and Eric's origin story next season. What can you tell us about that?
KB: I have heard that as well, and I'm so excited about it and they tell us nothing. I cannot wait to see what that is. All I have is what I have been putting together in my mind for the last four years, which I'm sure once I see it on the screen it will be so much better.
Buzz: Do you have any thoughts on if Rutina Wesley is coming back? That is one of the biggest questions in my mind. What the heck happens there? I have so many questions in my mind because I heard a rumor online that Pam dug up Russell Edgington and I have no idea why she would do that, but I thought, I don't know why she'd do that, but how much fun if she did. I just can't wait to see what I'm responsible for. I have no idea on any of it. They're really smart, they just don't tell us.
To find out what else Bauer had to say about her guest role on Once Upon a Time, just keep reading.
Buzz: You would think that an evil queen is one-dimensional, but it seems like these women have a lot of layers. Was it interesting for you to approach the character, and did it surprise you that there was so much going on in the story?
KB: Well, exactly, you put it exactly right because that's what makes it interesting for an actor because if you play "evil" quote-unquote kind of like in the cartoon world, like in Sleeping Beauty when you're a kid, it's spelled out a little bit too much for you. But once a human being steps into those shoes, you want to try to find these other layers and that's what gets exciting and that's what Lana and I had so much fun doing. Because you're inventing it on the spot, because you get clues from the writing, you get clues from the clothing, clues from what they showed me my house looks like — if you can call it a house. But to find those other layers then starts informing everybody about what those last 1,000 years look like.
Buzz: Are most of your scenes with the evil queen, or do you get to interact with some of the other characters?
KB: So far it's just been with Lana, which was great. I'm just in this one episode for now. It's open, but we'll see.
Buzz: You play a ruthless character on True Blood. Did that inform the way you approached this evil character, or did you really want to approach it differently?
KB: It helped in the sense that other producers and other shows see that I could be tough and edgy. But then once I'm going to go do the role, the dynamics are completely clean. You know, the dynamics are different. All the characters you play can inform it, you take little pieces. But really your imagination starts clean.
Buzz: So there's no Pam sneaking in to influence you or whisper in your ear?
KB: I mean, you almost never know because there's just not a clear line or switch. Like, Pam's probably informing my marriage as well [laughs]. How frightening is that for my husband?
Check out photos of Bauer as Maleficent in Once Upon a Time.